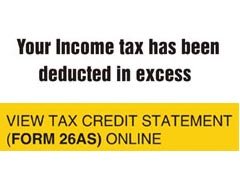 Your Income tax has been deducted in excess or yet there is no news of a refund? Now you can view form 26AS Tax credit statement online. Income tax department has launched TRACES – TDS Reconciliation Analysis and Correction Enabling System.
TRACES is a web-based application of the Income Tax Department that provides an interface to all stakeholders associated with TDS administration. It enables viewing of challan status, downloading of NSDL Conso File, Justification Report and Form 16 / 16A as well as viewing of annual tax credit statements (Form 26AS).
Deductors / Collectors and Tax Payers will have to register on TRACES to create their account and view functionalities enabled for each user. Deductors / collectors will be able to view the status of challans. TRACES also enables deductors / collectors to view TDS / TCS credit and verify PAN of Tax Payers linked to the deductor / collector.
Tax Payers will be able to view the annual tax credit for their PAN for the TDS / TCS amount deducted by deductors (Form 26AS). Tax Payers can also view if deductor has filed statement for a particular FY and Quarter and whether their PAN is included in the statement filed by deductor.
The portal is intended for use by the following types of users:
Tax Payers
Deductors / Collectors
Users will be able to login to TRACES after successful registration.
How do I register as a Tax payer on TRACES?
Steps to be followed for registering on TRACES as a Tax Payer:
Click on 'Register as New User' in TRACES home page
Select 'Type of User' as 'Tax Payer' from drop-down and proceed
Enter details from Step-1 to Step-3 and proceed
Confirm details in confirmation screen
On successful registration, activation link will be sent to registered email id and separate activation codes will be sent to registered email id and mobile number
Click on activation link and enter User Id and activation codes
After activation, user can login to TRACES
Once you login to TRACES you can view Statement status online from dashboard.
Please refer to this e-Tutorial to view statement status.