Diwali celebrations has begin Dhanteras is considered as auspicious day within the Hindu community. On this day people buy precious metal such as gold as a tradition.
This year dhanteras will be celebrated on 11th November. As it is auspicious day to make new purchases and investments in gold you may be ready to go out and shop.
In recent past we have seen that gold price has cross its peak and trading on 30,950 Rs/- on 6th November,2012 so million dollar question pop ups in your mind is , should you invest in gold at this dhanteras? Let's look at some statistic about gold.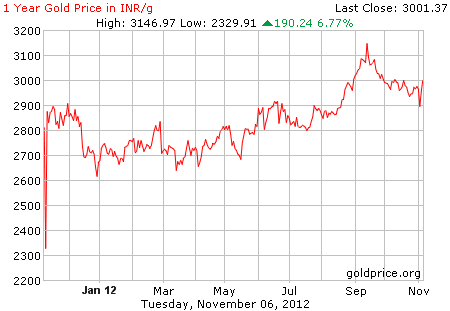 If you have purchase gold in 2011 at dhantaras it was costing 26,750 Rs/- per 10 gm. Today it is costing 30,950 Rs/-. Gold has given 15.70% return (CAGR) in one year. To get same return gold price must appreciate by 15.70% means gold should cost 35810 Rs/- next dhanteras.
What do experts say?
Despite the sharp run in gold prices in the last few years, some experts still feels that gold prices would continue to move up.
If we look at gold price prospective 2013 and beyond than forecasted gold price varies in price range of 33890 Rs/- to 38000 Rs/-. Means gold can give return from 10% to 22% by 2013.
Experts also say the recent correction in prices of gold provides a good opportunity for customers to invest. The recent correction in gold prices was utilised by speculators to exit the market and only genuine investors are left. As such this is a good opportunity for retail customers to invest in gold.
Should you invest?
In order to have a diversified portfolio, you need to invest some portion of your corpus in gold. "Gold should constitute roughly 10-12% of a portfolio."
You must be thinking that if gold is giving decent returns why expert suggest us to keep only 10-12% in portfolio. One good reason is gold is non productive asset. Gold value appreciates but cannot give you any other means of earning money in between like other asset class.
If someone has already invested 10-12%, he should not buy gold despite of Dhanteras. Alternatively he can make token purchase.
In short I am still bullish on investment in gold and recommend purchasing gold this Dhanteras keeping above point in mind.
How to Invest:-
There are various methods of purchasing gold. You can purchase gold in terms of jewellery. If you feel price of gold is high you can purchase light weight jewelleries, but remember physical jewellery purchase will be always costlier as you need to pay making charges and VAT.
Similarly you can purchase gold bar or coin etc. but still you need to pay VAT.
Best way to invest in gold is by means of purchasing Gold ETF. Gold ETF can be purchased even with very small amount like 1 unit (equivalent of 1gm gold).
So on this Dhanteras I recommend to purchase at least 1 Gold ETF. Happy Diwali & Happy Dhanteras in advance keep reading.