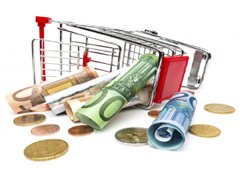 Today man is harassed continuously by one beautiful witch. Harassment by this witch is sweet but poisonous. This witch is following you everywhere. Not only that this witch is fooling you as per willingness and many of us are getting fooled also. Name of this witch or vamp is advertisement.
Have you ever seen advertisement of butter milk?
Have you ever come across advertisement of coconut water in newspaper?
Have you ever seen advertisement showing advantage of doing regular exercise on TV?
Remember advertisement are done to sell the product or to influence your buying decision. It is never done considering your betterment. Prime focus of advertisement is to how to take out money from your pocket. And many advertisements do succeed to make our pocket empty. Most of the time advertiser target on ladies and kids.
Examples:-
Kinder Joy- Simple example I could find is advertisement of "kinder joy" wherein advertiser is trying to attract kids by showing chocolates bundled with small toys. This generates temptation effects in to child. Similar example I could find in investment world is "Birla Sun life recurring Saving Plan" trying to sell recurring plan by showing The Crow and Pitcher story.
Fair & Handsome- As per my belief your skin color will not change from black to white by just applying one cream but yet many people purchase "Fair and Handsome" cream by just watching saharukh khan in advertisement.
In one chyawanprash advertisement they said that "our chyawanprash contains 33% more iron. So question arise here is do our body need 33% more iron.
Watching this type of advertisement multiple times may cause physiological effect and you end up purchasing this product although you may not in need of it. Remember when you go to shopping mall and take decision to purchase shop, toothpaste etc. Every decision you take will cost you some money. Many times this shopping decision is biased decision influenced by bluff stuff shown in to advertisements. So remember that influence of advertisement may cause shopping syndrome in you and you will end up spending more money.
I have seen other set of people they go for shopping in order to fill their internal emptiness. As per me internal emptiness never gets filled by shopping. These types of people are actually suffering from shopping syndrome.
These are People who "shop 'till they drop" and run their credit cards up to the limit often have a shopping addiction. They believe that if they shop they will feel better. Compulsive shopping and spending generally makes a person feel worse. It is similar to other addictive behaviors and has some of the same characteristics as problem drinking (alcoholism), gambling and overeating addictions.
To overcome this situation you can try following:-
Pay for purchases by cash, check, debit card.
Make a shopping list and only buy what is on the list.
Destroy all credit cards except one to be used for emergency only.
Avoid discount warehouses. Keep only a certain amount of cash to be spent if you do visit one.
If you feel out of control, you probably seek counseling.
Last but not least try to find way to prevent yourself being influenced from advertisement.
Wo kya khate hai ha…Dikhave Pe Mat Jao Apni Akal Lagao….