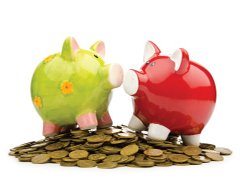 Religare Finvest which is a fully owned subsidiary of Religare has come up with a NCD issue. Preliminary business of the company is to provide finance for small and medium enterprises (SME) and retail capital market. This NCD is secured, redeemable aggregating Rs 250 crores, with an option to retain oversubscription up to Rs 250, totaling Rs 500 crores.
We will be discussing about key features of this issue to conclude that this NCD is worth for investment or not.
Religare Finvest NCD Key Features:-
•   Minimum Investment:   10,000/-
  •   Face value:   1000
  •   Credit Rating: CARE AA-' by CARE and '[ICRA] AA-(negative)' by ICRA
  •   Basis of Allotment: First Come First Serve Basis
  •   NCDs are allotted on demat mode only
  •   Issue opens on 14th September & closes on 27th September, 2012
  •   Issue Available to NRIs: NRIs can invest in these NCDs on a non – repatriable basis.
 Broadly investment categories are divided in 4 parts :-
Institutional
Non Institutional
Non Reserved Individual Investors: Individual investors who invest more than Rs. 5 lakhs.
Reserved Individual Investors: Individual investors who invest less than Rs. 5 lakhs.
The NCD issue offers debentures of five types, termed as series I to series V. Here is chart which shows various details about each series.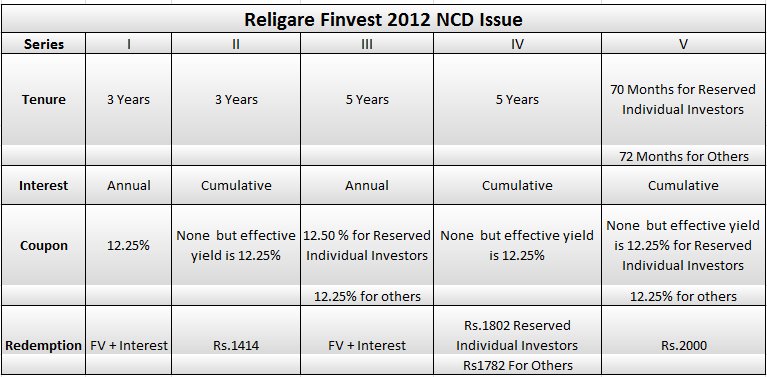 Religare Finvest 2012 NCD issue
Let's checkout is it worth investing in this issue?
Credit rating of AA- is assign to this issue (same like IIFL NCD) by CARE and ICRA this indicates investment grade security with high probability of meeting its financial obligations. This issue offer higher interest rate. Higher interest rate may seem attractive but higher the interest rate, the higher is the risk.
Real risk involves here is line of business in which company is operating. This company provides financing to SME and in retail market. This loans are SME mortgage loans, SME Working capital loan, Loans against marketable securities.  Profit of company is totally based on interest income and margins.
This business involves substantial risk as chances of SME going default are very high and if they default than it will adversely impact on profit of company.
If we see financial of company than facts reveals that gross NPAs (non-performing assets) have massively risen from Rs86.21 million on 31 March 2011 to Rs1,067 million on 31 March 2012 and the Net NPAs have increased from Rs17.71 million on March 31 2011, to Rs645.60 million on March 31 2012, This is not so good situation for the company. If we look at operating cash-flows than it have been continuously negative for the past three years.
The financial of the company seems to be weak and we doubt that it cannot sustain huge amount of liabilities. Considering all these facts it is advisable not to invest in this issue.