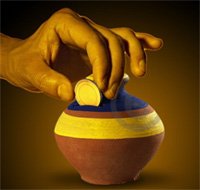 You may have heard about various gold investment plans of jewelers like TBZ, Tanishq, Titan where you need to invest money in small amount and final delivery is in terms of Gold Jewlellery. Reliance has launched similar type of plan few days back.  Name of plan is Reliance My Gold Plan (RMGP). With this plan Reliance Money targets Rs 2 Trillion unorganized gold market news posted in Time of India.
Under the plan, named Reliance My Gold Plan, the customer can invest a minimum of Rs 1,000 per month and the company would use the money for purchase of gold on a daily basis and the total accumulate funds can be redeemed for gold coins or jewellery at the end of the investment tenure. This plan was launched in association with World Gold Council as its marketing partner
Let's Review Reliance My Gold Plan to find out is it worth investing in this plan.
Target Segment:
People who want to accumulate gold for their personal use.
Key Features:
Who can Apply:
Resident individuals including minors,HUFs and NRI.
Minimum Subscription Amount:
The minimum monthly subscription amount which the customer has to commit at the time of registration shall be Rs. 1000/- and in multiples of Rs. 100/- thereafter.
Tenure of Plan:
The various tenures available under the Plan are 1 year to 15 years with interval of 1 year.
Lock-in period:
6 months from the date of initial subscription. Fulfillment of Gold Grams shall not be permitted during the Lock-in period.
Fulfillment Options:
24 Carat Gold of 995 fineness or more available in Gold Coins of denominations of 0.5 / 1 / 5 / 8/ 10 / 20 / 50 grams
Administrative Charge:
1.5% Administrative charge. This charge shall be levied on every Gold Grams Allotment by effecting a mark-up of 1.5% on the Daily Gold Price. This is a non-refundable fee paid towards setup/ administration costs
Pre-Mature Termination Charge:
No pre-mature termination fee on fulfillment post 1 year from the date of creation of Customer ID. Fulfillment during the lock-in period is not allowed. However, a pre-mature termination fee of 2.5% shall apply on the cumulative subscription amount paid by the customer in case of pre-mature fulfillment post lock-in period but before 1 year.
Safe Keeping Charges:
Safe Keeping Charges of 0.5% per annum on the total subscription amount. The charge is applicable only in case the customer does not take delivery of Gold Coins within 60 days from the date of issue of Fulfillment Voucher or the date of completion of chosen tenure whichever is earlier.
Fulfillment related Payments:
The customer will have to make the following payments at the time of Fulfillment
Rounding off to the nearest incremental 0.5 grams at the prevailing Daily Gold Price
Coin making charges as may be applicable
Taxes such as VAT and any other applicable State taxes
Purity:
Gold purity guaranteed at 24 karat/ 99.5% pure.
Comparison with other Gold Saving Plans:
Our Opinion:
RMGP scores high over the traditional gold accumulation plans offered by jewelers in terms of assured purity and creditability. It also offers more flexible options of converting into physical gold while other schemes of jeweler force that jewelry has to be bought from the same outlet on maturity.
Although RGMP gives benefit of averaging cost and give protection against volatility in gold price same benefit can be obtain by doing SIP in Gold ETF.
According to me RGMP is option to accumulate gold and not gold investment option, as it does not have the option of redeeming the maturity proceeds as cash. One should not invest in this plan. This is not correct plan for Gold investment.
If the primary objective is to diversify the investment portfolio by investing in gold, gold ETF is much better option than RMGP.