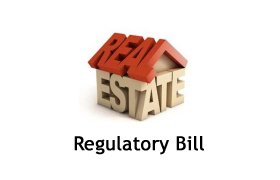 Cabinet has given green single to real estate regulatory bill. This bill was first introduced in 2013 in UPA government. Introduction of this bill means great relief to real estate investor; this bill will protect them against frauds and fake promises of developers. It will also ensure timely execution of projects. This bill covers commercial as well as residential projects. Let's take a look at broader look at real estate regulatory bill and its benefits to investors.
10 Things you need to know about Real Estate Regulatory Bill
Amended real estate regulatory bill says that:-
It is mandatory to register real estate projects, plots, apartment or building, with real estate regulatory authority.
Builder or developer need to publish mandatory information like project layout plan, land status, plan approval status, contractor, architect , structure engineer detail etc.
Builder need to adhere to project plan and facility mentioned. In case of any default customer can claim refund.
50% of customer money should be deposited in separate account by builder within 15 days from date of receipt. This money should be used for construction purpose only.
Builder or developer cannot change plan or specification without consent of two third alottees. Minor addition or alteration is permissible.
Provision is made in bill that real estate agent who is intended to sale property need to register themselves with authority.
Real estate agent need to maintain book of account, records and documents. They should not be involved in any unfair trade practice.
Customer has right to obtain possession as per promoter declaration. Incase if promoter default customer has right to get refund with interest and compensation.
Fast track dispute settlement mechanism through centralized authority district judge.
Heavy penalty including de-registration of project in case of bill is not followed by builder/promoter.
Real estate regulatory bill is indeed very good step taken by government. This bill will surely make real estate sector organized and transparent.
Do share your views on real estate regulatory bill. Do you think this bill will help investors.