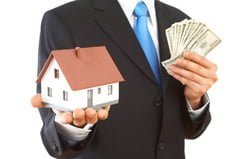 Recent study of NHB shows that housing prices are up in 9 cities and down in 11 cities. Overall most of the people are also talking that real estate sector will decline and bubble of real estate sector may burst and any moments, but on the other hand survey done by Knight Frank, a real estate advisory firm says that Real estate investment continue to shine in some part of India.
This survey says Prices are expected to appreciate in the range of 91-145 percent over the next five years in selected cities. This study report also says that real estate investors can expect a possible return on investments ranging between 18.6 percent and 29 percent per-annum over the next five years.
The report underlines that despite the decline in the property market, Mumbai is expected to stay as the most promising investment destination after Delhi-NCR, Chennai, Pune and Bengaluru. The study has identified 13 destinations across these five cities where prices are expected to appreciate in the range of 91-145 percent over the next five years.
Region-wise Top 5 real estate investment destination for Next 5 years:-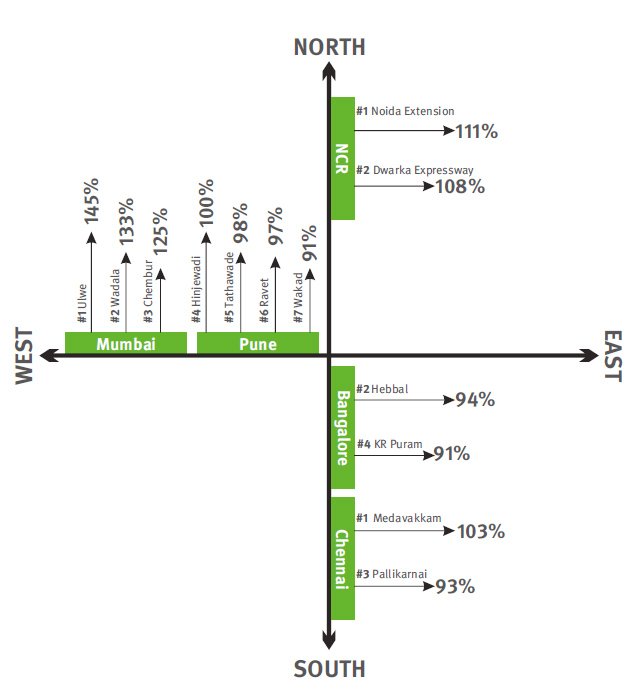 Key Takeaway from Report:-
With property options ranging from Rs 3,200- Rs 15,000 per sq ft and price appreciation in the range of 91 per cent to 145 per cent, residential real estate will emerge as a promising asset class for the next five years.
With seven destinations, the western region has the highest number of promising residential investment options.
The top three investment destinations, with investor returns in excess of 25% pa, are from Mumbai.
Only Mumbai ranks ahead of the top investment destinations of the NCR, the biggest residential market in the country.
Enhanced connectivity and the proposition of the diplomatic enclave will significantly benefit the Dwarka Expressway, placing it in high ranks on the investment return scale.
With four investment destinations, Pune has the maximum number of promising residential property options. IT/ITeS, Automobile and Engineering sectors are the primary employment drivers in Pune.
Areawise Appriciation:-
Ulwe, Wadala and Chembur in Mumbai will witness price appreciation of 145 percent, 133 percent and 125 percent respectively in five years, the report said.
Noida Extension and Dwarka Expressway in Delhi-NCR will see an appreciation of 111 percent and 108 percent respectively over the period.
In Chennai's Medavakkam, prices are expected to appreciate by 103 percent from the current Rs 3800 per sq ft while prices in Pallikarni could rise by 93 percent.
Pune's Hinjewadi, Tathawade, Ravet and Wakad would witness rise in prices by 100 percent, 98 percent, 97 percent and 91 percent respectively mainly due to the IT and ITeS sectors.
Hebbal and KR Puram in Bengaluru will see an increase in prices by 94 percent and 91 percent respectively, the report said.
Top Investment real estate destination Raked in Order of Investor Return:-



Read Knight Rank Report – India's Top Destination to Invest in