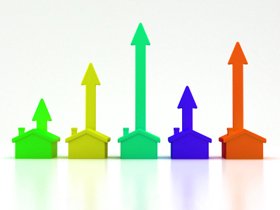 Property market in India is slowly opening up. Demand rise and formation of stable government is two major reason behind it. From January 2014 to March 2014 it is observed that property price is increasing in majority of cities. As per latest NHB report property price has gone up by 7% in 12 major cities of India.
Metro city like Mumbai is observing slow but steady property price gain since last three quarters. As per NHB report Surat is leading top position with price gain of 7.1% followed by Ahmedabad and Chennai where price gain of 6.1% and 5.8% is observed. This price rise is also observed in Calcutta, Raipur Lucknow and Mumbai.
Let's look at 12 major cities where price gain in property is observed as per NHB.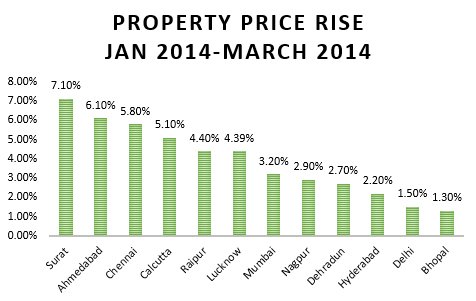 Let's now look at 12 major cities where price fall in property market is observed as per NHB.
In Patna biggest property fall is observed. Patna is down by 5.7%. Followed by Jaipur, Guwahati and Bangalore where price fall of -3.8%,-.375% and -3.6% is observed. Another cities where major price fall is observed are Maruth, Bhubaneswar, Ludhiana, Chandigarh, Indore, Pune and Vijayawada.
Kochi and Faridabad price is stagnant no change is observed in property price.
This data is taken from NHB website. NHB does survey every quarter where it include 26 main city in this survey.  This data report is from Jan 2014 to March 2014 only. For more information kindly visit NHB website.