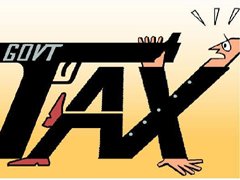 Taxes are paid nation are made, you must have heard this famous slogan many times but  do you know how many people actually pay income tax in India. According to data total number of tax payers in India is 33.57 million (3.5 crore).
Current population of India is 1.22 billion (122 crore) so only 2.86 % people pay taxes. Don't get surprise look at following tax data showing total number of income tax assesses from 2006 to 2012.
| | |
| --- | --- |
| Financial Year | Income Tax Assesses |
| 2006-07 | 31903137 |
| 2007-08 | 33662801 |
| 2008-09 | 32650627 |
| 2009-10 | 34085426 |
| 2010-11 | 33739124 |
| 2011-12 | 33579839 |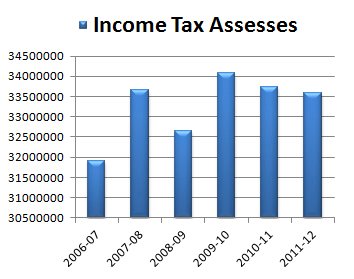 Closely look at above graph income tax assesses are in range from 3.1 Cr to 3.4 Cr from 2006 to 2012.
To increase tax collection figure recently government has issued warning asking people to disclose correct income and pay due advance tax by December 15 or be prepared to face action, hoping it would help boost tax collections that could fall short of the government's budget estimates.
Government says there is no advantage in suppressing the true income or avoiding paying income tax that is due because, sooner than later, the information available with the income tax department will lead the department to the doors of such persons", revenue secretary Sumit Bose told reporters.
Net direct tax collection rose 15 % to Rs 2,70,731 crore during April-November period of the current fiscal with nearly three-fifth coming from the corporate sector. The government has budgeted Rs 5.70 lakh crore from direct taxes — income tax, corporate tax and wealth tax – in the current fiscal.
According to the Finance Ministry, only 1.4 million taxpayers disclosed income above Rs 10 lakh in the Assessment Year (A.Y.) 2012-13. 1.6 million people made credit card payments of over Rs 2 lakh during the year. As many as 1.1 million bought or sold house property of over Rs 30 lakh, 3.3 million had cash deposits of over Rs 10 lakh in a savings bank account. Besides, 5.2 million people acquired mutual funds of Rs two lakh or more, bonds or debentures of Rs 5 lakh or more, shares issued by a company of Rs 1 lakh or more, and bonds issued by the Reserve Bank of India (RBI) of Rs 5 lakh or more.
Our Opinion:-
Tracking all financial transaction by government is very good and vigilant step, towards increase in tax collection and the country's tax-to-GDP ratio, which is one the lowest amongst its peers.
For golden future of country high savings rate and payment of legitimate tax is important. Government should take certain steps to increase number of tax payers. According to past figures it seems only salaried people are paying Tax. Please understand that building nation is not only responsibility of salaried people.
We urge you to pay tax honestly.
Reference: – Tax Data