PAN Card Fraud – Identify theft is a real cause of concern in the online world. We share a lot of our personal information including PAN numbers on the internet. What happens if someone takes a loan on your behalf? How do you feel if you are declared a defaulter without taking a loan? Shocking correct!
For most people news like this will be a nightmare 🙁 
Well, there are hundreds of PAN card frauds taking place nowadays using the Dhani Loan App, where the fraudster is taking loans using the victim's PAN card. Let's find out & How to check if someone has taken a loan on your behalf? & How to safeguard yourself against PAN card fraud?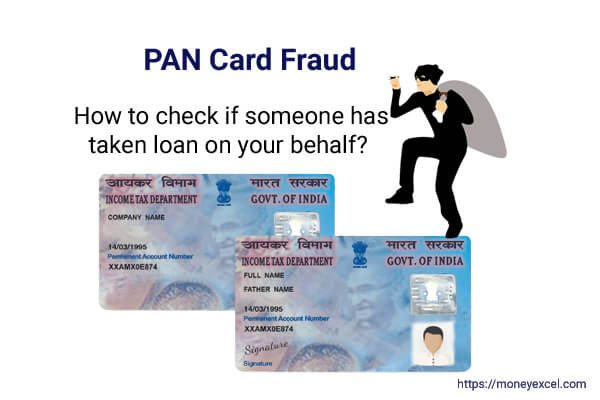 How PAN card fraud can take place?
There are many loan apps available online, which offers instant and short-term loan without security. India bull Dhani is one of them.
Instant loan is issued by these types of apps just by providing PAN card number or photocopy of PAN card. No detailed verification is carried out to know the identity of a person while providing a loan. That's why PAN card fraud like this can take place.
How fraudster gets your PAN card information?
Although a PAN card is an important document, we quote PAN cards or share our Pan card photocopy at many places (knowingly or unknowingly). The information shared like this can be misused.
Few examples where you might have shared your PAN card number/photocopy/softcopy which can be misused.
You may provide your PAN card details while doing a tatkal railway booking. Apart from that, you might have linked your Aadhaar and PAN with your IRCTC account. The details given here can be misused to do identity theft.

PAN cards details are also given by you while getting a mobile pre-paid connection. In most cases, the processing of these applications is done by third-party agents. It is highly possible that information can be leaked from agents or the insecure servers of these agencies.

If you are doing online business and accepting payment via Facebook, you might have given PAN card number in your Facebook profile. Even sometimes you end up sharing your PAN card photograph with an agent/unknown person for various financial requirements.

You might have given your PAN to travel agents for travel booking or you may be giving PAN card while doing holiday booking on the online portals. 
All these places are a possible source of PAN card leakage to fraudsters or cybercriminals.
How to check if someone has taken a loan on your behalf?
You need to check your credit information report/credit score report to find out if someone has taken a loan on your behalf or not. Additionally, you can also find high-value transaction detail on your PAN in Form 26AS issued by the Income tax department.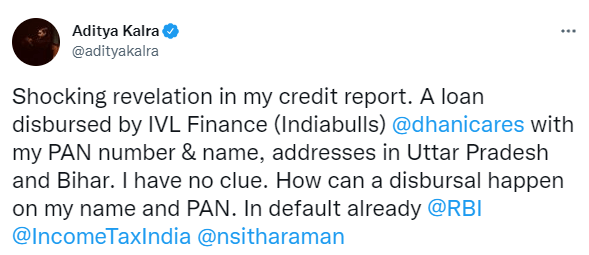 The credit information report (CIR) gives a detailed month-wise record of your loan, EMI, and/ or credit card payments. This report includes the following information.
How many and what types of loans are taken by you to date.

Amount sanctioned by the bank and outstanding amount.

Detail of loans where you stood as a guarantor.

Your loan repayment history, delay, and default.

Inquiries about your CIR are made by various banks.
Follow the steps given below to get your credit information report.
You can get your account created on various credit bureau websites like CIBIL, Equifax, Experian, or CRIF High Mark.

SBI Card, Paytm, Bank Bazaar also provide the facility to check reports by partnering with bureaus.

Many free mobile apps also provide credit score reports.

You can select whichever of these options is easier for you.

Find the option to check your credit score on the respective portal or app.

You just need to create your account on these apps/portals by providing your DoB, PAN card, and mobile number to access these reports.

Once you get access to the report you can check out loan details.

Regularly check credit information reports at least once a month or opt for an SMS service alert in case of loan is detected on your account.

Check your Form 26 AS issued by the Income-tax department for the financial transactions done on your PAN card.
What to do in case you have become a victim of such fraud?
In case anyone of you has become a victim of such PAN card fraud, you need to make a complaint at three places.
#1 Bank or Financial Companies
The first place where you need to file your complaint is the customer care of the bank or financial companies in which your loan is showing. You need to provide proof or details that the PAN card number that is shown is yours.
In most of the cases photograph of the PAN card is changed by editing or in a few cases not only a loan but a saving bank account is also opened using a fake identity. You also need to file a complaint about cybercrime at the police department.
#2 Income Tax Department
The second place where you need to file a complaint is the Income-tax department and file a complaint. You can reach to income tax department by calling the Income Tax helpline or by sending them an e-mail. Details can be found on the Income tax website.
#3 CIBIL (Credit Bauru)  
The third-place where you need to a complaint is CIBIL (Credit bureau) that your report is showing wrong information about a loan. You also need to produce FIR or other proof to correct your credit score. Because, if your credit score is affected badly you may not get a loan.
How to safeguard yourself against PAN card fraud?
To safeguard yourself in this online world against these types of fraud, my first advice is to share a driving license or voter ID card as identity proof instead of PAN. Use your PAN card where it is compulsory.
Don't enter your PAN card details or personal information from a public computer or any other unknown device. Make sure that your laptop or desktop from where you are accessing information is protected from antivirus and firewall. Keep scan copy of your PAN card password protected.
Make sure that person to whom you are handing over your PAN card or softcopy is a known person and not likely to misuse your details.
Secure the original and photocopies of your PAN card. Whenever you are submitting PAN photocopies with signature make sure to write the purpose for which PAN photocopy is submitted.
Final Words
In this financial world, fraud can take place anytime with anyone. You need to stay alert and go the extra mile to safeguard your personal information and important financial documents.
If you like this post and want to help your friends or relatives to safeguard against these types of frauds, please share this piece of information with them via Facebook, Twitter or WhatsApp.