Many times we come across cheating incidents caused by changing cheque amount or by doing cheque tampering.  In order to prevent this type of frauds & to shorten clearing cycle RBI has taken good initiative of CTS it is now mandatory for banks to issue standardized form of cheuqes as per CTS-2010 standard guideline.
This new cheque clearing system will be applicable from 1st January,2013. With this, the bank will not accept all non-CTS cheques (that you issue from your existing cheque book) and those will be out of circulation from December 31, 2012. Hence, the existing customers are now required to surrender their existing cheque book and ask for CTS-2010 benchmarked cheques
You must have seen following advertisement/notice given by SBI in local newspapers.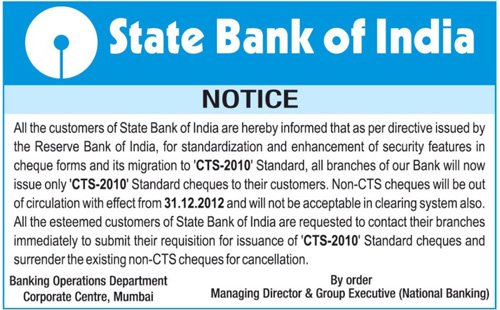 Bank will be sending new chque book to last recorded address if your current address is different than recorded address kindly contact branch office immediately.
As per this notice already circulated cheques will be invalid and replaced by 31st December 2012. Let's look at CTS system and what advantage it will bring to end customer.
What is cheque truncation system?
Cheque truncation system (CTS) was implemented by RBI at New Delhi Bankers Clearing House on a pilot basis. Chennai of late, too executed the same process.
Cheque truncation, according to National Payment Corporation of India (NPCI) is the process in which the physical movement of cheque within a bank, between banks or among banks and the clearing house is curtailed or eliminated, being replaced in whole or in part, by electronic records of their content (with or without the images) for further processing and transmission.
What feature this new CTS Cheuqe will bring ?
All cheques carry standardized watermark called "CTS-INDIA" which can be seen when you held cheque against light. This feature will avoid fraudulent from photocopying or printing it. Mark will be in oval shape, and diameter of it is 2.6 to 3.0 cms. Each cheque will have at least one full mark.
In addition this paper used for cheque should be image friendly and have protection against any alteration by having new features as chemical sensitivity to acids, alkalis, bleaches and solvents giving  clear visibility of alteration. New cheque will not glow under Ultra-Violet light. This will make all cheques feel like same across all banks.
Bank Logo-It will be printed in ultra-violet ink. The logo will be captured or visible in ultra violet enabled scanners. It will establishes genuineness of cheque.
Field placement of cheque-Placement of significant fields are made mandatory but additional fields can be added by banks with their wish. This will make capturing optical/Image character recognition (OCR/ICR) in offline mode and help banks in automating their payments. Sample of the cheque will looks like below.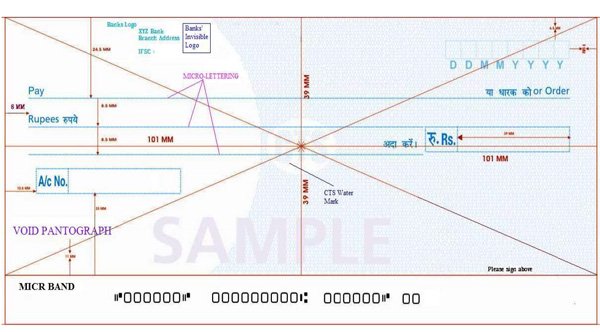 Colour and Background-Light/Pastel colors will be mandated for cheques. But the finalization will be after consultation with Indian Bank Association and National Payment Corporation of India.
Clutter free background-Background will be keep clutter free as possible for improving quality and clarity of images. Alterations/Correction on cheques-No changes or corrections should be carried out on cheques (except for date validation purpose, if required).
Additional security features-Other than above mandatory features cheque may content below few features based on Banks own risk calculation.
a) Supplementary watermark containing their own logo, b) embedded fluorescent fibers, c) fugitive ink, d) Secondary fluorescent ink, e) micro-letting, f) toner fusing, g) check-sum, h) patterns, i) floral designs, j) bleeding ink, k) structural magnetic, l) security thread, m) hot stamped holograms on multi city cheques and drafts, n) auto-detection tools, o) use of UV band to identify amount in words, amount in figures, signature and beneficiary name, p) pre-encoding of amount field on the MICR bandfor DDs and pay orders before issuing to customers. q) use of check-sum on the face of DDs and pay orders (other than MICR band).
Download CTS 2010 Cheque Specification
What are the benefits of CTS to customers of banks?
The benefits are many. With the introduction of imaging and truncation, the physical movement of instruments is stopped. The electronic movement of images of cheques speeds up the process of settlement and can facilitate reduction in the clearing cycles as well. Moreover, there is no fear of loss of instruments in transit. Further, limitations of the existing clearing system in terms of geography or jurisdiction can be removed, thus enabling consolidation and integration of multiple clearing locations managed by different banks with varying service levels into a nation-wide standard clearing system with uniform processes and practices.
The benefits from CTS could be summarized as follows –
Shorter clearing cycle
Superior verification and reconciliation process
No geographical restrictions as to jurisdiction
Operational efficiency for banks and customers alike
Reduction in operational risk and risks associated with paper clearing
I hope with introduction of CTS, fraud related to cheque tampering will vanish.