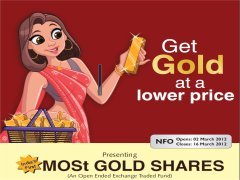 Gold, the shining yellow metal is most popular investment options for everyone. From decades people use to purchase gold in physical form gold coin, biscuit, gold jewelries etc. New concept of Gold ETF is introduced in india before few years. Today, Gold ETFs are very popular as investment option in India.
What is ETF:-
Exchange Traded Funds (ETFs) are like shares units which investor buy or sell from the stock exchange, as against a normal mutual fund unit, where the investor trades through direct fund house. ETFs are listed and traded on stock exchanges.
Gold ETF:-
Gold ETFs provide investors the route of participate in the bullion market without purchasing gold in physical form. Price of single gold ETF is equal to 1gm of gold.
Prices of gold ETFs moves in parallel with physical gold ,When the price of gold moves up, the value of ETFs appreciates and vice versa.
Usually you will get money back on redemption of gold ETF, You have ever think of getting physical gold on redemption of Gold ETF (10 gram lot !!). Yes now it is possible. Motilal Oswal one of the largest fund house has launched "MOSt Shares Gold ETF" which will provide you physical gold on redemption of Gold ETF.

Motilal Oswal MOSt Shares Gold ETF as Investment Option:-
Investment objective: To provide return by investing in Gold Bullion. Investment made only in physical gold of 99.5purity or higher
Performance: Benchmarked to the Spot Gold Price.
Load: – No Entry or Exit Load
Minimum Investment during NFO: Rs. 10,000/- and multiples of Re. 1/-
Attractive Features:-
Buy directly buy from AMC in 10 gram lots OR Buy Gold ETFs from stock exchange terminal (1 gm i.e. 1 unit or higher)
For the 1st time ever, redeem ETF Units for physical Gold bars as low as 10gms
Get pure imported gold- fineness or purity of 99.5% or higher
Gold price will be comparatively  lower than other options in the market
Facility of taking physical delivery of gold available in 22 cities in India
 Physical redemption details:-
The physical delivery payout will be in T+5 days as against normal cash redemption in T+2 days, where, 'T' stands for transaction day.
The physical delivery in minimum 10 gm bars will be available across 22 cities in India.
The investor can opt for redemption and take cash by selling the units to Motilal Oswal AMC.
The tax treatment on capital gains at the time of redeeming the units is similar to that of a debt scheme.
There are delivery charges if you redeem gold of less than 1000 grams. You will have to pay Rs 750 per 10 gram of gold.
MOSt Shares Gold ETF Advantage:-
Best of Both World :- MOSt Gold Shares marries the investment benefits of Gold with its Consumption – seamlessly.
Redeem for cash, physical gold bars at better rates than any other Banks/Jewellers. (Bank and jewller usually sell at higher premium)
Redemption in lower lot 10 Gms compare to 1 Kg for other gold ETF.
Pure Imported Gold at a time of redemption. (99.5 per cent purity or 24 carat)
22 Gold collection center across India for redemption
Catch Points:-
Apart from cost of brokerage & securities transaction tax one has to bare additional cost on redemption of physical gold.
Motilal Oswal asset base is lower one should pick fund house with large asset base so liquidity will be higher.
Expense ratio proposed is 1.3% which seems to be at higher side if we compare with other Gold ETFs listed on Indian Exchanges.
Strategic Growth Recommendation:-
Retail investors who are looking for investment in gold for consumption purpose, option provided by Motilal Oswal Gold ETF is very good.
By purchasing this ETF Investors will get benefit best of both world, one can get pure physical gold whenever they want, thus, fulfilling investment-cum-consumption needs of the investors, simultaneously.  Gold will be provided with high-purity (99.5%) at international spot price.
This investment option provides advantage over purchasing gold from Bank or jwellers. As Bank or Jweller take premium of approximate 7 % above over spot prices.
MOSt gold shares is definitely superior option for consumers who now invest in gold-saving schemes of jewelers like Gold Harvesting scheme of "Tanishq". You will get 99.5 % (24 Carat) gold in MOSt Gold shares which may not be case with jewelers.
This scheme will help the retail investors in getting pure gold at actual prevailing international market price. We have to wait and watch if this scheme will provide sufficient liquidity for trading on exchanges or not.