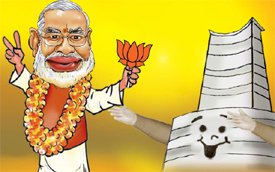 Election results are out and as expected BJP won the election. Narendra Modi will be next prime minister. BJP got 282 seats and NDA contributed 54 more seats. People of India have given clear mandate that they want good governance, economic growth and development.
Modi brings good days for stock Markets. From the day Modi was declared as PM candidate by BJP stock market is going up. Market delivered more than 20% returns in the past eight months. This positive movement is expected to continue. To take advantage of this rally you must be thinking where to invest. To help you out we are herewith top 26 stock picks by Motilal Oswal. Motilal oswal provides financial services like stock market broking, investment banking, private wealth management, asset management & commodity trading.
26 Stock Picks by Motilal Oswal:-
Finance & Banking Sector
State Bank of India
ICICI Bank
Axis Bank
Canara Bank
Oriental Bank of Commerce
NFBCS
Power Finance Corporation
Shriram Transport Finance
Capital Goods Sector
L&T
BHEL
Thermax
Power
NTPC
Coal India
Jai Prakash
Energy
ONGC
BPCL
Auto
Maruti
Ashok Leyland
TVS Motors
Cement
ACC
Dalmia Bharat
Ultratech
Real Estate
IBREL
DLF
Unitech
Media
Sun TV Network
Dish TV
What do you think about 26 stock picks by Motilal Oswal. Do share your views.
You can read full report on India Strategy by Motilal Oswal here.