LIC IPO is one of the most awaited IPO by Investors as well as LIC Policyholders. LIC Policyholders can apply for this IPO and get an allotment of LIC shares at a lower rate. As a policyholder, you must be thinking – How to apply as Policyholder? How to get ready for LIC IPO? If these questions are bugging you this post is for you. In this post, I will help you in getting ready with the prerequisite for applying for LIC IPO.
LIC IPO – How to Apply as a Policyholder?
To apply for LIC IPO as a policyholder, your PAN card details should be updated in LIC's record. In the other words you need to link your LIC Policy with your PAN card this is to be done on LIC Portal. Additionally, as a policyholder, you should have Demat account.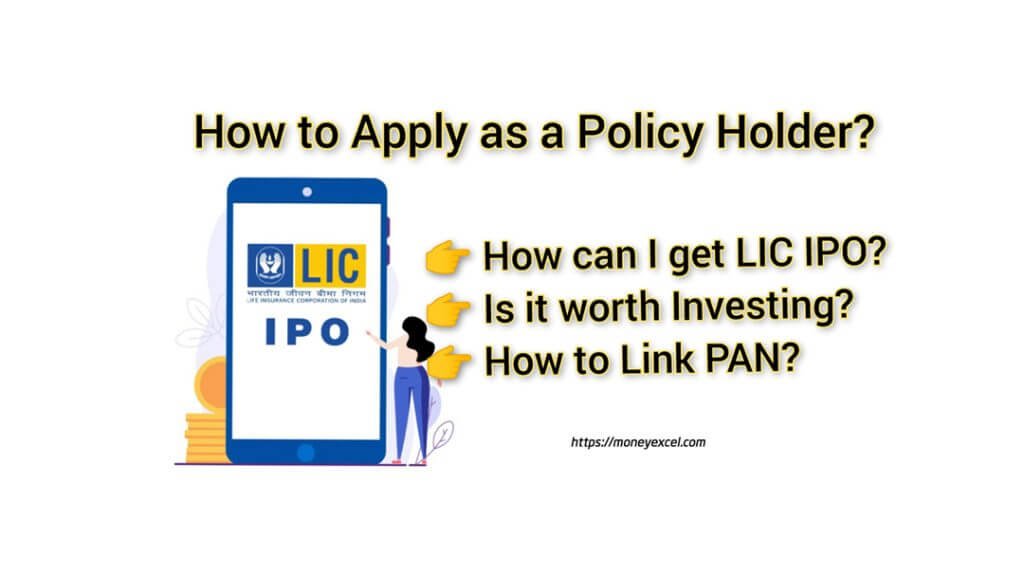 How to Link PAN with LIC Policy to invest in LIC IPO?
#1 To link PAN with LIC Policy, as a policyholder you needs to visit LIC website – https://licindia.in/
#2 On LIC website you will get a special section called "Online PAN Registration". Under this section, you will get a button called click here. On clicking that button you will be taken to a new page. Make sure your PAN card details are handy. Alternatively, you can click on the link – https://licindia.in/Home/Online-PAN-Registration and directly visit the page for linking PAN with LIC policy.
#3 Click on proceed button and you will be taken to the page where you need to enter your date of birth, your e-mail id, PAN card number, Full name as per PAN card, your mobile number, and policy number. If you have multiple policies, you can add multiple policies together.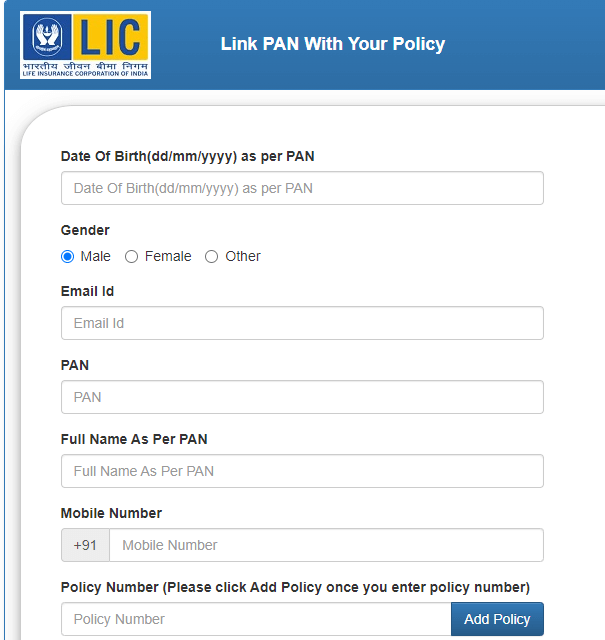 #4 Once you are done with entering all information you need to provide consent by ticking the checkbox and entering a captcha. OTP will be sent to the registered mobile number of the policyholder.
SMS Example – OTP for Linking your PAN with LIC Policies is 872391
#5 On successful authentication you will get a message that "Request for PAN Registration received". Shortly PAN card details will be updated against mentioned policy.
If you have already linked your PAN card with LIC policy, or if you are unsure about linking you can check the status of linking.
Follow the steps given below to check PAN card linking with LIC Policy.
How to check if your PAN details are updated on LIC records?
#1 To check if your PAN card details are updated on LIC records visit LIC website – https://licindia.in/
#2 Visit "Online PAN Registration" section. Under this section click on "Click here" button. You will be taken to a new page where you will find a section for checking Policy PAN Status.
#3 To check linking status enter your policy number, date of birth, and your PAN card number.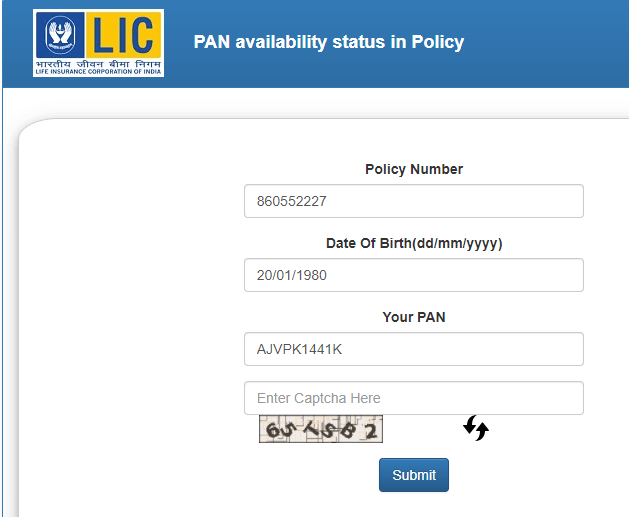 #4 After entering captcha click on submit button. The system will display the status of your PAN linking. If PAN is not registered, you will also get a link for updating your PAN card number.
The status checking is allowed against each policy.
Updating KYC & PAN details on eServices Login
To make sure that your LIC IPO application is valid and accepted, you need to make sure that your KYC details mentioned in your LIC policy are updated. If your address of communication, contact number or e-mail address is changed with respect to LIC policy, you need to update it before applying for the LIC IPO. You can update these details online on LIC website.
Login to LIC website and click on eServices.
Click on profile management and visit Update profile section.
Update the required information under this section.
You can update mobile number, e-mail address as well as your address of communication via this facility.
How to open Demat account to apply for LIC IPO?
Detmat account is another prerequisite to apply for LIC IPO (any IPO). If you have not opened Demat account yet follow the steps given below.
#1 Visit the website of either of the depository participants in which you want to open the Demat account. You can choose NSDL or CDSL as your registered DP.  LIC has also released an advertisement in which they have provided LIC IPO Demat link.
#2 Click on any of the links given below to open your Demat account.
#3 Select the broking firm –  Axis, ICICI, HDFC, Kotak or SBI to open Demat account.  You can open Demat account online. Following documents are required to open Demat account.
Recent photograph
PAN card
Address Proof
Cancel cheque 
FAQ about LIC IPO as LIC Policyholder
What we can do in LIC IPO as Policy holder?
A Demat account is mandatory to invest in any IPO. As LIC policyholder you should have Demat account and your LIC policies should be linked to your PAN card.
Is it worth buying LIC IPO?
The LIC IPO is an excellent development not only for Indian's capital market but also for India's economic growth. LIC is a trusted brand and operational for long. LIC has the maximum market share in life insurance market in India. LIC is a profitable corporation and holds shares of many profitable companies. You will surely get benefits if you invest in LIC. It is an excellent choice for investment.
How can I get LIC IPO?
You need to apply for LIC IPO via your Demat account. As a policyholder, you will get the advantage of preferential allotment. You need to complete the linking of PAN with your LIC policies.
How many shares I will get as LIC Policy holder?
LIC had made provision that 10% of issue likely to be offered to LIC policyholders at a discounted price. The number of shares will be based on various factors such as a number of policy, policy amount, premium paid etc.
When will LIC IPO open?
LIC IPO is expected during the fourth quarter (January to March) of the financial year 2021-22. The pre-IPO process is underway. The actual IPO date will be announced soon.
Final Words
The exact date of IPO is yet not known, every investor with Demat account and valid PAN card can apply for LIC IPO. The current Policyholder will get the advantage of preferential allotment under 10% quota reserved for them. This basically means that as a policyholder your chance of getting LIC share allotment is higher. So, make sure to complete the prerequisite of linking PAN with LIC policy and opening of Demat account. The process is very simple quick and online.