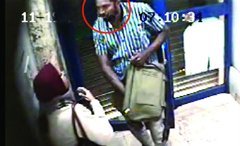 A woman bank manager was attacked by robber inside unguarded ATM Kiosk in Bangalore today morning at 7.10 am. A gun-wielding attacker hit her on the head with a machete after she resisted his demand to withdraw cash and hand it over to him.
Doctors said lady is suffering from several injuries to her skull. Her right side body is in paralyzed condition.
ATM robbery like this is quite normal, day in and day out we hear about such news from media TV, newspaper etc. But do we really learn something from this type of incidents. Probably answer is NO!
So it is time to learn something. Today we will try to share learning from ATM Bank robbery.
Learning from ATM Bank Robbery – Banglore
Learning to Common man:-
(1)  In this incident of robbery lady has entered in to ATM kiosk which was not manned by security guard. Learning is we should avoid entering in to any unguarded kiosk.
(2) Lady entered in ATM kiosk early in morning. Never visit ATM on odd times like this many people who withdraw cash from ATMs during night/early morning are at great risk.
(3) Never select ATM machine which is single ATM machine at odd location. At odd location movement will be less and attacker may take advantage of the same.
(4) Lady refuses demand of attacker to withdraw money & attacker hits her. Learning here is if you love your life never refuses to comply with demand to withdraw money.
Learning to Bank:-
(1) Every Bank should equip ATM Kiosk by guard. Failing to which bank should not be permitted to operate ATM.
(2)  Security guard at ATM kiosk should be equipped with gun or equivalent protection measures.
(3)  ATM guard should be trained enough to handle such eventualities of robbery.
(4)  Bank should appoint ex-service man as guard.
(5)  All ATM kiosks should be covered with CCTV Camera.
(6) Bank should consider option of implementing access control at ATM Kiosk doors. This approach is already adopted by SBI on majority of ATM centers.
Hope you find this learning useful. If you find it interesting do share it with your friends.
Banglore ATM Robbery