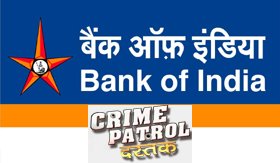 Locker perhaps most secure place to keep our valuables. Everyone keeps jewellery and valuable in bank's lockers, but do you maintain list what you have kept inside your locker? How often you check your locker? You might be thinking why I am asking silly questions. Well today I am herewith true story shown by crime patrol on Diamonds burglary from Bank's Locker.
Crime Patrol Story:-
Story is of diamond trader from Mumbai who keeps his diamonds in National People Bank's locker. After one year when he check his locker he finds that diamonds are missing. When he tells this to manager, manager tells him that it is not possible. Other people and family members also tells him that he must have forgotten it after putting diamonds somewhere else. It was a 2008 incident.
Same happens again in 2011 with him. His diamonds were missing again from locker. This time he files police complain and police starts the investigation. Police ask bank manager to call other customer to come and check. While checking it is found that diamond worth 12 Cr are missing from bank lockers.
Crime branch team investigated and found that unique modus operandi was used in this case. Four accused made duplicate locker keys of locker to do diamond burglary. You can watch full story of crime patrol in following video.
Bank of Indian Real Story:-
Story given above is real story of Bank of India Opera House, Mumbai. As per the report given by news paper time of India this burglary was done by four people Ajay K Mehta (48), Chandrasen Anand Barde (49) diamond brokers and others are Mehta's friend Shamshuddin Azmi, a real estate broker, and Farid Ahmed Hashmi (47), a professional duplicate key-maker from Bhayander.
The police recovered trader Mehul Doshi's diamonds worth Rs 1.65 crore from them. Total estimated burglary was 4.75 crore.
Learning from Crime Patrol Story:-
Three main learning from mention crime patrol story is given below.
Check Locker at Regular Frequency
We have seen many people open locker to keep belongings and forget. They never take care of checking locker. Learning for this type of people is to have habit of checking locker at least once in six month.
Maintain list of Item kept in Locker
Second learning is you should maintain a list of item kept in locker. This list should contain information about jewellery type weight information etc. If possible you should take a photograph of belonging kept in locker.
Make sure bank is equipped with security system before opening locker
Third learning is before opening locker you should make sure that bank is equipped with latest security system including CCTV.  In above case As CCTV system was not installed inside the room, it was difficult to comprehend what was happening inside locker room.
Do share your view/comments on above.