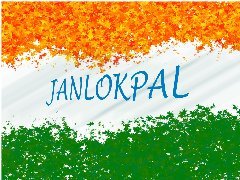 The Jan Lokpal Bill or anti-corruption bill is proposed to fight against corruption. Lokpal bills were introduced several times since 1968, yet they were never passed by the Indian Parliament.
The Jan Lokpal Bill (Citizen's ombudsman Bill) is a draft anti-corruption bill drawn up by prominent civil society activists seeking the appointment of a Jan Lokpal, an independent body that would investigate corruption cases, complete the investigation within a year.
In April 2011, civil activist Anna Hazare started a Satyagraha movement by commencing an indefinite fast in New Delhi to demand the passing of the bill. The movement attracted attention in the media, and hundreds of thousands of supporters, in part due to the organizational skills of Arvind Kejriwal. Following Hazare's four day hunger strike, Indian Prime Minister Manmohan Singh stated that the bill would be re-introduced in the 2011 monsoon session of the Parliament. Accordingly, a committee of five Cabinet Ministers and five social activists attempted to draft a compromise bill merging the two versions but failed. The Indian government went on to propose its own version in the parliament, which the activists rejected on the grounds of not being sufficiently effective, and called it a "toothless bill".
Key Features of  Jan Lokpal bill: –
To establish a central government anti-corruption institution called Lokpal, supported by Lokayukta at the state level.
The Lokpal will be supervised by the Cabinet Secretary and the Election Commission. As a result, it will be completely independent of the government and free from ministerial influence in its investigations.
Members will be appointed by judges, Indian Administrative Service officers with a clean record.
A selection committee will invite short-listed candidates for interviews which will be video recorded and will be made public on website.
Every month on its website, the Lokayukta will publish a list of cases dealt with, brief details of each, their outcome and any action taken or proposed and pending cases.
 Investigations of each case must be completed in one year. Any resulting trials should be concluded in the following year, giving a total maximum process time of two years.
Losses to the government by a corrupt individual will be recovered at the time of conviction.
Government officework required by a citizen that is not completed within a prescribed time period will result in Lokpal imposing financial penalties on those responsible, which will then be given as compensation to the person who has made complain.
Complaints against any officer of Lokpal will be investigated and completed within month and, if found to be applicable, will result in the officer being dismissed within two months.
 The existing anti-corruption agencies Central Vigilance cell and CBI the anti-corruption branch will be merged into Lokpal which will have complete power authority to independently investigate and prosecute any officer, judge or politician.
You must be thinking that how till bill will impact on your finance we have valid reason for this.
Corruption:-
It is believed that day this bill will come in to picture, it will vanish 50-60 % corruption. As corruption will reduced/vanish thing will move as per rule and no one has to give money to someone illegally.
e.g Currently if you apply for any official things in government like "Passport application" or RTO application for transfer of vehicle officers usually ask for money apart from fees (bribe) in order to complete the task. One will usually pay it in order to move thing faster.
Note:-  Above example is taken in order to explain concepts.
Once this bill will come in to affect this type of corruption will reduce and efficiency will improve. You will be saving a money by not giving bribe which shall effect your finance.
Black Money:-
As no bribe are given / taken it will reduce black money. Black money refers to money removed from the official economy (via corruption, bribery, tax evasion, etc.) and stored in terms of cash within or outside of the country.
According to a 2010 The Hindu article, unofficial estimates indicate that Indians had over US$1456 billion in black money stored in Swiss banks (approximately USD 1.4 trillion). This money are usually made by taking bribe /corruption or by tax evasion, which cause ultimate lost to Indian economy.
Consider the case if this amount will be back in our country than lot of things related to education, welfare, and employment generation can take place.
Even reduction in black money cause more Tax payment to government hence reduction in Tax ultimately impact on your personal finance.
Reduction in Tax:-
As their will be no black money tax will be paid on every transaction hence government get more amount as Tax. They will be force to reduce Tax. Consider following reality.
"In 1982, in Singapore, bill similar to Jan Lokpal was implemented and 142 Corrupt Ministers & officers were arrested in one single day. Today, Singapore has only 1% poor people & no taxes are paid by the people to the government, 92% literacy rate, better medical facilities, cheaper prices, 90% money is white & only 1% unemployment exists"
From above it is clear that with strong "Jan Lokpal bill" Tax will be reduced / nullified hence you will have more power in terms of saving and spending more money.
Conclusion:- Strong Jan lokpal bill will reduce corruption, black money and ultimately Income Tax, which cause advantage to every Indian.
We should support Jan Lokpal bill & movement of "Anna Hazare" against corruption.