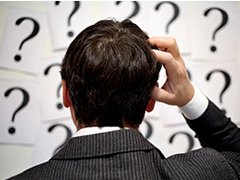 'Anybody can earn money, it's the investments that matters & more importantly investment class.' In today's fast and volatile world, investments have become a catchword in the financial arena. Once the necessary expenses are taken care of, people have to decide which is the best way & place for them to invest their hard-earned money.
As multiple investment options are available we often hear questions like:-
(1)   I have money with me where should I invest in?
(2)   What type of investment your recommend?
(3)   What should be strategy?
Most of people including financial advisor give common answer to this questions like:-
(1)   Invest your money in Mutual funds
(2)   Invest regularly / systematically
(3)   Invest for long term, Buy hold and diversify
Most average investor believes in this advice and end up investing in mutual funds systematically, that may be because mutual funds investment is much easier, less expensive, and requires very little management.
People invest for long term. They buy, hold & diversify their investment. At the end they may make some profit or capital gains but majority of them end up making loss.
Let's check out what we are doing while we are investing in mutual funds:-
(1)   We are giving our hard earned money to stranger to invest in our behalf.
(2)   Stranger is trying to guess market ups and down on behalf of our money.
(3)   We don't have any control over our money.
"After doing investments in mutual funds we have to just pray, that our investment gives good returns, which most of the time never gives."
Let's take practical example to understand mutual funds as investment option.
Banker's prospective on Mutual funds:-
Bank has different set of opinion about mutual funds. They consider mutual funds as risky investment option. To understand this concept, try out following experiments.
Experiment 1:- Try to visit your banker and ask them to lend you money for investing in mutual funds. Bank will refuse to lend you money saying it is against bank policy.  Reason of not giving loan to you is they feel mutual funds' investments are risky.
Experiment 2:- If you have mutual funds in your portfolio try to ask loan against it. Only few banks will provide loans like this and that is only up to 50-70% of NAV.
Experiment 3:- Try to ask your bank to provide you loan for real estate/ property. They will be glad to provide you loan up to 80% of your property price.
 Before lending you money they will ask enough documents to check your capability for making repayment.
Learning:-
If bank feel that risk is involved in giving money to stranger why can't we?
If bank is checking clients capacity for repayment before giving loan, question arise that do we check fund manager eligibility & capability for making investment on behalf of us ?
Real estate investments are less risky compare to mutual funds.
In mutual fund you have to use your 100% money for investment. In real estate you can take loan up to 80% for making investment.
Insurance Company's prospective on Mutual funds:-
Insurance company also feels mutual fund is risky investment option. To understand this concept, try out following experiment.
Experiment 1:- Try to visit your insurance agent and ask him you want to purchase insurance plan for your existing mutual funds in order to prevent losses.
Unfortunately agent will deny to protect your mutual funds by insurance saying that it is against policy.
Learning:-
You can purchase insurance for life, home, car even for your health but you cannot purchase insurance for mutual funds.
Investment in mutual funds may be good option for average investor, who has limited knowledge of stock market but for smart/informed investor there are many better investment options are available for investments like real estate, stocks etc.