On Monday, we have witnessed biggest stock market fall. Sensex tank about 1600 points in a day, it is biggest single-day fall in past 7 years. The loss on account of this fall is estimated to be 75000 Crore. The reason for this correction is a global economy and China's manipulation about currency. Some of the blue-chip stocks like L&T, SBI and Infosys are showing in red. So now is the time to invest in stock market.
Why???
It's not because of recent stock market correction. It's not because of stocks price reduction – where overvalued stocks are available in realistic price. It's because you should always remain invested in stock market.  Let me explain.
There are ten different reasons which make the stock market a great vehicle for building wealth. Remember one of the richest men of India "Rakesh Jhunjhunwala" generated all his wealth from stock market investments. These ten reasons are –
10 Reasons to Invest in Stock Market
Liquidity
The stock market offers ease of liquidity. You can convert equity stock into cash within three working days.  For stocks, you need not to wait for a buyer, the way you need to do in real estate. If any one of your stock is dragging your portfolio, you can quickly sell it before it further leads to a loss.
The stock market also allows you to switch from good investment to best investment with a click of a button.
Scalability 
The stock market offers you lot of scalability. You can start with small amount and go big gradually. There is common belief that you need a lot of money before you can begin investing in a stock market that is not true.
Affordability
Another beauty of the stock market is affordability. Buying stock means buying a small share of a company, buying a stock is more affordable for the common man than buying entire company or starting a business. A company you want to invest may be multi-million enterprise, but you may be able to get a single share for just 100 Rs/-.
For the common man, this is a faster way to build wealth rather than saving up for the decade to purchase a business.
Opportunistic
We often hear from people that "ABC" stock was available at a very low price but I missed opportunity of investment, if I could have invested money in that stock I could have made lot of profits. This shows that stock market investment is full of opportunities. You need skills to identify these opportunities.
The stock market can make you rich or can make you poor also.
Transparency
Stock investments are completely transparent. You can get all information about stock before purchasing like ask price, bid price, offered quantity in the public domain. This gives confidence to an investor before investing.
Stop Loss & Limit Order
The stock market is only single investment avenue which gives you facility of placing a stop loss. You can place advance stop loss order with brokerage house for sell. This order will be executed automatically once stock falls to designated price. A stop loss is designed to limit an investor loss on position in a security. Similar to this you can also limit the order while making the purchase in a stock market.
Tax Friendly
Stock market investment is tax friendly. Let me explain if you invest in fixed deposit tax is applicable on interest earned and maturity amount, however if you invest in stock market no tax is applicable on the dividend. Even no tax is applicable for long-term capital gains from equity.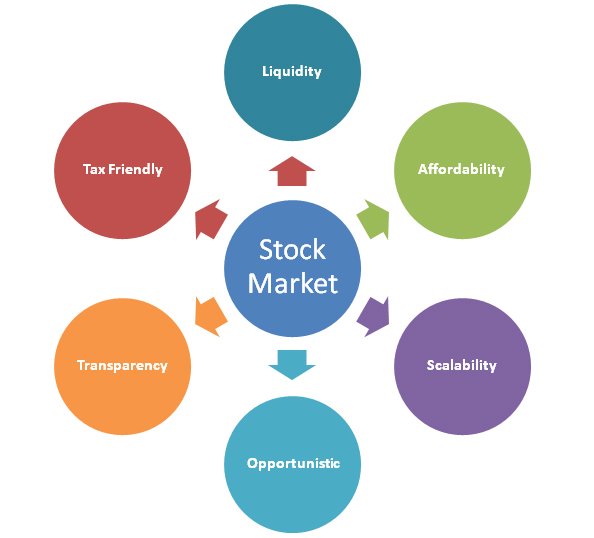 Regulated Market
The stock market in India is regulated by Security Exchange Board of India (SEBI). SEBI is responsible for the protection of investor interests, promoting and regulating the Indian securities markets. SEBI is doing their job quite well.
Data Available for Research
You can do your own research before making an investment in stock market. All required data like past performance, bonus, split, a quarterly result of a company is available publically. This helps an investor to take an informed decision.
Online Transaction & Electronic Format
Dealing in the stock market is quite simple. You need a trading account and the internet all your transaction can be done online. Stocks are also stored in electronic format hence no need to do separate paperwork.
Conclusion: – A correction in a stock market is a valid reason to worry; however, it does not mean that you should stay away from the market. From the above discussion, we can conclude that one should always remain invested in stock market.