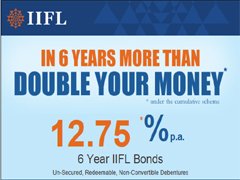 India Infoline Finance Ltd (formerly known as India Infoline Investment Services Ltd.) has come out with a public issue of unsecured redeemable non convertible debentures of face value of Rs 1,000 each aggregating up to Rs 500 crore from 5th Sept, 2012. This issue will be open till 18th Sept, 2012.
You must be thinking what NCD is and why I should invest in?
What is NCD?
NCDs are debt instruments; Company can raise money by either issuing shares or taking a loan. There are different ways of taking a loan – they can take a loan from a bank, financial institutions, raise money abroad, or take a loan from the public.
When they take a loan from the public – the instrument used is called a debenture or a bond. Further, there are two types of debentures – Convertible Debentures, and Non Convertible Debentures.
Convertible Debentures can be converted into shares after the lapse of a certain time period, whereas Non Convertible Debentures always remain debt instruments.
IIFL Bond Key Features:-
Biggest attraction for investor is the high rate of interest at 12.75% per annum. This IIFL Bonds are redeemable after 6 years. Looking at rate of interest you can double your money in 6 years.
Monthly, Annual , Cumulative interest options
This bond offers three different options monthly payout, yearly payout and cumulative option out of this three option cumulative option seems to be best as you can double your money in 6 years.
Tradable NCD to be listed on BSE & NSE
These bonds will be listed on exchanges and can be traded in the secondary market if you need to exit early.
No Tax deduction at source on interest
If you buy a this NCD then the interest will not attract TDS, however you will have to add the interest to your other income and pay tax on it according to your income tax slab.
Post Tax Returns more than 10%
Slab wise post tax return for these bonds is as follows:-
10.30 Tax Bracket – Return 11.44%
20.60 Tax Bracket – Return 10.12%
30.90 Tax Bracket –  Return 8.81%
25% of the issue is reserved for the "Reserved Individual Portion" i.e. for the individual investors investing up to Rs. 5 lakhs and another 25% of the issue is reserved for the "Unreserved Individual Portion" i.e. for the individual investors investing above Rs. 5 lakhs. 40% of the issue is reserved for the institutional investors and the remaining 10% is for the non-institutional investors. NRIs and foreign nationals among others are not eligible to invest in this issue. The allotment will be made on a "first-come-first-served" basis.
Risk Factor:-
This issue of NCDs is unsecured, which means that in the event of a claim, it would be settled only after the claim of other creditors are settled. However, they come before equity shareholders in the priority list.
The issue is rated Crisil AA- stable and ICRA AA- stable. This is in line with the rating for its other outstanding NCD issues. This indicates investment grade security with high probability of meeting its financial obligations.
The company currently has a capital adequacy ratio of 17.86%, which is above Reserve Bank of India's prescribed level of 15%.
Invest or not:-
IIFL is in the business of lending to individuals and companies. As on March 2012, mortgage loans were 45% of their total loan book and gold loans accounted for 41%. Both these business segments are expected to grow in the next few years.
You have to be careful as the rating of this bond is not the best adverse business conditions related to gold loan business or housing loan business might put IIFFL's fortunes & your money in trouble, but overall it is attractive issue. Monthly payout is very good if you invest 10 Lakh in this issue you can get payout of 10,625 Rs/- per month. You can invest but no need to invest everything here.Other issue are also lined up in future.
Company is advertising a yield of 13.52%, but that is possible only if you reinvest the payout amount at the same rate. So unless you are not in need of monthly or annual income, stick to the cumulative option and hold the bond till maturity.