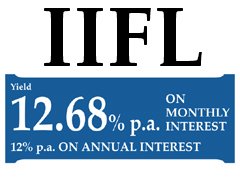 Last year we have talked about IIFL Unsecured Bonds. Today we will discuss about IIFL Secured Bonds. IIFL secured bond public issue will open on 17th September,2013 and will close on 4th October,2013.
Let us check out features of IIFL Secured Bond -2013
IIFL(India infoline limited)SECURED BOND with 12.68% interest….
Monthly and Annual interest options available
12.68% p.a. yield on Monthly and 12% p.a. yield on Annual option
Bonds are secured and carry maturity of 3 and 5 years
No TDS will be deducted in DEMAT Form
Bonds will be listed on NSE and BSE
Lock in an interest rate of 12% p.a. for 3 or 5 years
Face value of each NCD bond Rs 1,000 each. Base issue size of Rs 525 cr and an option to retain further Rs 525 cr, totaling upto Rs 1,050 cr
Rated 'CARE AA'[Double A] by CARE and 'BWR AA (Outlook:Stable)' by Brickwork which indicates high degree of safety and carries very low credit risk
The bonds have a fixed maturity of 3 and 5 years and will be listed on both NSE & BSE to provide liquidity to the investors
Monthly interest payment option to enable regular cash flows to investors as well as annual option is also available
Long-term debt rating has improved despite difficult business environment, indicating robust business model
No Call & Put Option available, which means company Cannot prematurely redeem the bonds
 Minimum application size is 5,000; allotment on a first-come-first-served basis;
Offer opens on September 17, 2013 and closes on October 4, 2013
Allotment will be done on first come first serve basis
IFIL Secured Bond Should I Invest?
Looking at first glance with 12.68% interest its very lucrative offer, but we should look at return on a post-tax basis.
For someone in highest tax bracket 30% this coupon rate of 12% will reduce to 8.4% post tax. For tax bracket of 10% it will reduce to 9.6% post tax and to 10.68% for 20% tax bracket. Post tax this issue offers around 2-3% higher yield compare to fixed deposit.
Apart from returns, security of capital is major aspect one should look for, This issue is rated AA by CARE and BWR which indicates high degree of safety.
Overall safety and return prospective IIFL bond is good for investment but, while evaluating the issue, you should really consider how much money you are going to put in this, how much extra interest can that earn you, and whether that's enough for you & your goal.