Sales mean business. Everyone who is doing business is in sales. Nothing works in business without sales.
Everyone in the world is making sales. Job people sell their time. Professionals sell their talent. The receptionist who answers the phone is in sales. Your customer service people are in sales. Entrepreneurs are in sales. Artists are in sales. Actors are in sales. Politician is in sales and even doctors are in sales. Everyone is in sales. They either sell their time, talent, product, or services.
In my opinion, sales is a powerful skill that can be learned. If you follow the system and take expert advice sales can help you to generate a lot of money. You can make money more than an engineer, charted accountant, doctor, or even actor in the sales profession. Considering the importance of sales today I am going to share 5 Important and proven sales tips that would help you in achieving sales and growing business.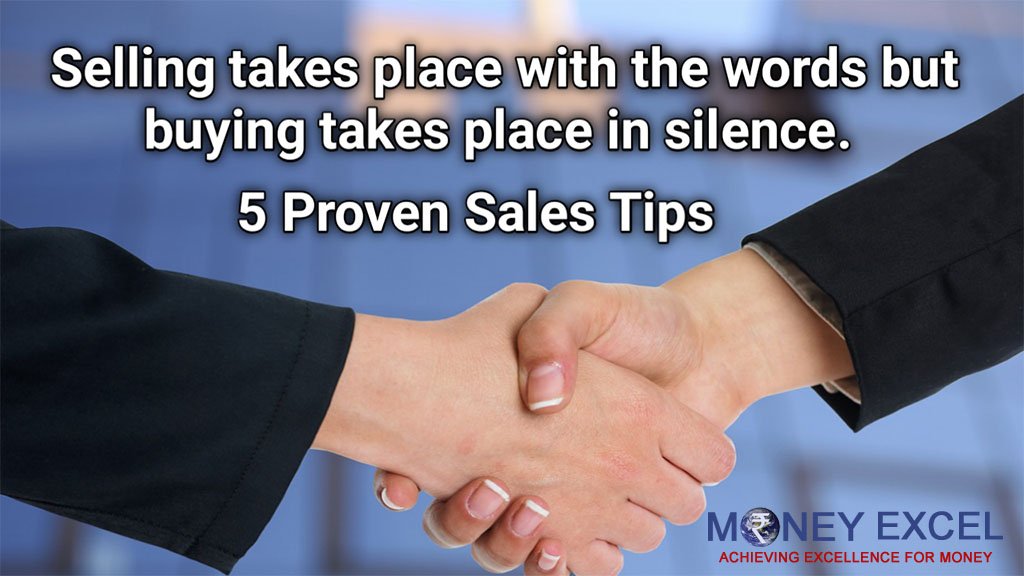 How to sell a product? – 5 Proven Sales Tips 
#1 Consider Yourself a consultant, not a seller 
The first sales tip to increase your sales is instead of considering yourself as a seller, you need to consider yourself as a consultant or problem solver.
You need to follow three step process examine, diagnose, and treat to achieve sales. Let's take a look at an example of a doctor. A doctor always follows this process. The doctor examines the patient and tries to diagnose the issue. Once the diagnosis is done doctor gives the medicine or suggests alternative treatment.
When it comes to sales, we also need to follow a similar 3 steps process. We need to do need analysis. Need analysis helps us to know relevant product or service requirements. You can not sell the product if the client has no requirements. So do need analysis, find a product, and sell a product.
So follow the sequence of need analysis, finding a product, and selling. Remember – Selling out of sequence kills the sale.
#2 Focus on Relationships not sales
The second tip to achieve higher sales is to focus on the relationship and not on sales. If you focus on sales without establishing a relationship you will lose both. To establish a relationship, you need to listen to the customer. 
You can ask questions to the customer about current problems or objectives related to the product or services you are selling. You can also discuss something related to the family. This would help you to build trust.
Once trust is established it is easy to sell products or services. Sometimes sales happen automatically if you have a good relationship.
#3 Pause Before Replying 
One of the most important tips for sales is – to pause before replying or responding. You need to understand the client. The client should also feel that you are listening to him/her or understanding him/her and not just trying to sell products or services by telling features and benefits.
Remember – Selling takes place with the words but buying takes place in silence.
#4 Higher Energy level
Sales tip 4 is you should have a higher energy level to get sales. You can not achieve sales without an energy level. You should be full of energy and enthusiasm while you are selling. Your energy level decides your sales.
The buyer or client should feel your energy. Remember – Selling is nothing but the transfer of enthusiasm from the seller to the buyer.
#5 Confidence & Conviction
Sales tip 5 is you should have confidence and conviction about your product or services. Remember – Confidence is key to success in Sales. You can not sell a product or service if you are not confident or if you do not have conviction about your product or services.
Over to you – I hope the 5 sales tips given above will surely help you to increase your sales. If you are facing any issues in sales or want some advice you can get in touch with us at info@moneyexcel.com.