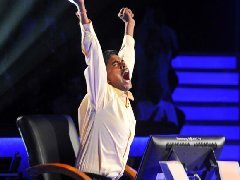 We all know that Sushil kumar , 27, a teacher from Bihar's Motihari district earning Rs 6,000 monthly won the highest game prize ever on Indian television 5 crores (Rs 50 million) on Kaun Banega Crorepati (KBC) few days back (actually 3.5 crores after tax 30% slab)  for many the Oscar-winning Slumdog Millionaire came to real life from reel life.
Consider putting yourself in place of "Sushil" If you win 3.5 crore , what you will do with this money, For majority set of people  approach will be you plan to buy dream bungalow, purchase favorite car may be ferrari or audi, to go for foreign holiday every year and many more wish. In short your standard or living/lifestyle will change.  Do you really know that how KBC winner Sushil has spent his 3.5 Cr. This price money has changed his lifestyle?
Some set of people may approach financial planner and seek assistance by them about what to do with this money.
Star Plus channel has given financial advisor from Axis Bank, to Sushil in order to help him invest his winnings money in short to do financial planning. He is already being approached by wealth managers, relationships managers to advise him on how to "invest his money".
He has denied request of all financial planner and decided to put his money at work by self. We will describe in this article that what he has done with his winning money 3.5 Cr. At the end you will decide that, Does he really need a Financial Plan or expert advice of financial planner?
Financial planning done by Sushil Kumar:-
Real Estate Investment:-
In one of interview Sushil said: – "I haven't thought about how I should spend this money as yet. The first thing I will do, though, is build a house for my family, and then I will help my brothers start their businesses. I'm also very fond of reading, so now I will buy many books, start a library and read a lot,"
Sources confirm that Mr.Sushil kumar has taken land in middle of city Motihari costing several worth several lakhs. This is first investment done by Sushil Kumar from winning money.
Looking at current situation of real estate and way land price are increasing this is really wise investment done by him. This land may be costing several lakh but in future value will be pretty high.
Investment in Bond & Gold:-
Sushil kumar has invested several lakh of money in to Fix income Bond and purchase gold for the investment purpose. With this investment he will get fix return on Bond which can be one additional income to him, he need to take care about tax on interest earned. Investment in gold is wise investment as we have seen gold price has appreciated in few years and gold will continue to appreciate in years to come.
Money in Bank:-
Sources confirm that still half of winning amount is kept as it is in bank (Approximately 1.75 Cr). Sushil Kumar will earn fix interest on this amount which will be additional income to him. Placing money in to bank just like this is not goanna help as money will grow slowly but if we consider impact of inflation & tax than on and average it is loss at his part.
Tax saving Plan:-
Yet Sushil kumar has not opted/draw any tax saving plan with the help of Bank Manager he is planning to do so. This is good step taken by sushil kumar as most of his investment are fixed base on which interest component is taxable so he must plan for tax saving.
Planning to purchase Insurance & Health Cover:-
Sources confirm that Sushil kumar is also planning to buy life insurance and health cover for family. Yet he has not done so. This step helps his family to provide proper protection which is required.
Lesson learned:-
As soon as some one wins this big money they opt for big car, bunglow etc. Yet Sushil kumar has not purchased any car and as per him he will continue to use cycle. This shows simplicity still he is carrying although he has lot of money he decided not to spend money on luxuries items.  Still he is living way he was living nothing has change as far as life style is concern. He says that more and more luxuries items make you lazy which is not good for you.
Lesson learned from above is you can seek necessity but it should not be case that luxury becomes your necessity.
Although Sushil Kumar opted for financial planning on his own but we see that this planning could have been better. Most of option selected by Sushil Kumar is fixed interest option. Tax impact is not considered. No care is taken to calculate future money need and inflation.
Missing things in Sushil Kumar financial planning is it is not Goal based planning. No consideration of retirement planning. Asset allocation/ investment mix is not proper majority investment is fix return investment. In fix return investment also lot of option can be explored yet PPF, Fix deposit. High Risk High return investment instrument Equity/ Mutual funds is totally missing.
As per us Sushil Kumar has to look forward and take help of good financial advisor if not. He is advice to invest amount kept in bank in following manner.
Fix Deposit: – 20%
Equity: –  30%
SIP based Mutual fund investment every month 20-25 thousand or 30%
PPF investment-  50 thousand per year
Term Plan -1 Cr.
Emergency Fund – 10 Lac
 In order to select Mutual Funds and Equity he must approch good Financial Advisor.
Do you think Sushil Kumar needs a Financial Plan or expert advice of financial planner? Pass on you answer by commenting by comment section. Share this article & provide chance to your friends to learn something.