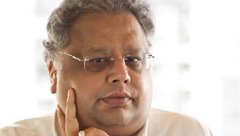 In an interview with Nargis Fakhri on ET Now, Big Bull Rahesh Jhunjhunwala shares his views on market and his success story as an investor. Excerpts:
Nargis Fakhri: I will start with asking you how did you become the most successful investor?
Rakesh Jhunjhunwala: God's grace and elders' blessings.
Nargis Fakhri: So I heard that you started off with a small amount of money and then you created such a massive amount. Do you really think that was God's grace or do you think that you studied a lot?
Rakesh Jhunjhunwala: It could not have come without hard work and ambition; I would say the ability to face failure and doing things in a rational manner and always using the right means for the ends. I believe I may not get my hands where I should never change my means and finally God's grace and elders' blessings.
Nargis Fakhri: Do you have an obsession with money?
Rakesh Jhunjhunwala: I do not think so because I am essentially a middle class person and I have far less wealth than people think, but far more than I need. I have a very simple wife. Only the hunt is more interesting than the kill.
---
Rakesh Jhunjhunwala in conversation with Nargis Fakhri :-
---
Nargis Fakhri: That passion and drive; is it for money or actually now you said it is the hunt?
Rakesh Jhunjhunwala: It is not that it is not for money, but it is not primarily for the money as well. Somebody has said it is a difference of opinion which makes market interesting. You say A, I say B. I feel very happy when I am proved right and my opinions are fortified or are reflected by the market. I told you the markets are very interesting, like women, always demanding, mysterious, uncertain, volatile.
Nargis Fakhri: I want to know some secrets or some tips but I am not sure if you can give that.
Rakesh Jhunjhunwala: I have to say tips are hazardous for health. You cannot make money on borrowed knowledge. But if you invest some part of your money in the stock market, I'll surely help you.
Nargis Fakhri: It is not like you can tell a layperson to read some books and they might get an idea. You would not gain all that knowledge just like reading few books.
Rakesh Jhunjhunwala: I inherited no money from my father. Of course it was all his blessings. So I had no money, but I got the capital to trade. So I do two activities — trading and investing. Trading is extremely difficult and 1 out of 5 million is successful in that.
Nargis Fakhri: I do not know how old you were when you took that amount that you did and invested like your first investment.
Rakesh Jhunjhunwala: No, I came into the stock market when I was 25.
Nargis Fakhri: Really. So before 25 and before your first investment, you were already into learning, studying and trying to understand?
Rakesh Jhunjhunwala: Yes, I used to look at stocks from the age of 13.
Nargis Fakhri: And who got you into it?
Rakesh Jhunjhunwala: Well, my father was interested in the stock market and at a young age when some were interested in sports, some in being doctors and some in being journalists, all I was interested in were girls.
Nargis Fakhri: I saw that India was doing really well. I do not know if that was a golden period or is the golden period coming. How do you see the markets; explain it to me, I am a layperson, I do not really understand.
Rakesh Jhunjhunwala: The prospects of Indian stock market depend on the prospects of the Indian economy and I believe that India's growth is inevitable. We are having some kind of a correction and India's chaos is organised chaos.
It is a talented society, multi-cultured. We have the most favourable demographics in the world and we have good skills and entrepreneurship, and all this cannot be reversed. So I am very bullish on the market. The golden period is still ahead of us.
Nargis Fakhri: I have also noticed like western companies coming into India, does that help to increase the market value as well?
Rakesh Jhunjhunwala: India has got a large population. Indians consume a lot. All western companies want markets. How many burgers will McDonald sell to Americans? So they need new markets and that is why they come in and they add to economic prosperity. It is a win-win situation both for the country from which they come and for the Indians.
Nargis Fakhri: Yes, companies like Walmart are supposed to come here?
Rakesh Jhunjhunwala: Yes.
Nargis Fakhri: Why are you bullish on retail investments?
Rakesh Jhunjhunwala: Because India is a very large retail market and a very small part of it is organised. Retailing business in India is $400 billion today. By 2020 it is supposed to be $1.2 trillion, and the shift to organised retailing is going to be big. So it is a big opportunity.
Nargis Fakhri: I found out that only 3% of Indians are invested in Indian stocks, which is less than the global average. So does that mean that people outside of India are investing in Indian supplies?
Rakesh Jhunjhunwala: There are a lot of Indian institutions, insurance companies which I invest in and a lot of money is coming from abroad. We have foreign institutional investors.
Nargis Fakhri: What is your advice to Indian investors?
Rakesh Jhunjhunwala: I have always been advising them to invest in India. When people ask me why don't you invest abroad, I say when the food at home is so good, why eat outside? I advise people that they must put some part of their wealth into Indian equities, but very few of them listen to me.