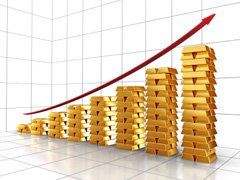 Spectacular demand for gold is draining huge amount of foreign exchange, government has taken decision to hike the import duty from 4 to 6 per cent, a decision that immediately sent prices shooting up. Simultaneously, the government also raised the duty on platinum by a similar percentage from 4 to 6.
Gold prices are likely to rise by up to Rs 600 per 10 gram in the short term with tapered demand following the government decision to hike import duty on the precious metal, according to jewellers and analysts.
While the investment demand may fall in the immediate future, Gold consumption in the jewellery demand would remain largely unaffected as gold is considered as safe haven for Indians. Jewellers, however, expressed concern that duty hike may lead to rise in import through unofficial channel including smuggling.
Government also proposed providing a link between Gold Exchange Traded Fund and Gold Deposit Scheme. Gold ETF can park part of their gold with banks. This is defiantly a positive move for gold ETFs as Investors sentiment will increase in gold-linked financial products
The advantage would be that a part of gold lying in stock would be brought in circulation and would practically meet the requirements of the gems and jewellery trade.
Government also eased the terms of gold deposit schemes of banks to encourage individuals to deposit their idle gold, which will help increase domestic supply.
Impact of these decisions:-
The hike in duty will make the retail jewellery expensive by 2% or Rs 600 per 10 grams.
This decision may boost smuggling and parallel economy.
Government is not going to gain anything from this as the money will be paid in hawala. In fact the government will lose on its revenue.
Demand of Imported gold will reduce.
Gold locked up with ETF will come in to circulation. Domestic supply of gold will increase.
Individual can also park their surplus gold in Gold Deposit scheme and can earn good returns.
Gold and platinum will become costlier and the demand for the yellow metal in particular may come down.