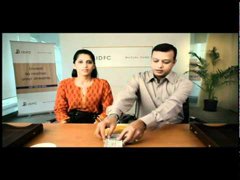 Saving and Investment is important need today. Investment & saving done today will help you tomorrow. Let's understand this concept by old simple story made by IDFC:-
Mr.Kharchalal loves to spend money and enjoy its fruits. His motto: Live Life King Size. He earns good income but he spend entire money every month.
Bachatram is a believer in the virtue of saving. For him, a penny saved is a penny earned!
Who is right and who is wrong?
Saving is important but investment is more important than saving. Investment will generate return or passive income, so right thing according to us is investment.
But now a day it seems investment is far away most of Indians are no more savers. After 90's saving habit of household is reduced like anything. This may be due to basic need of human including vegetables, food, education & medical expense is increasing day by day.
With increasing inflation normal man cannot run his household expense properly than how he can think of saving or investment?
In matter of saving & investment still old investment instrument is famous and widely used. This may be due to people are looking for safe and assure return on investment.
Due to reduction in interest rate investors are running away from small saving scheme. At secondary side due to risk and no capital protection investors are not even investing in equity market.
In year 2011-12 investor has taken away 22,030 Cr from small saving scheme & 6508 Cr from equity market. In last three years bank has notice that fix deposit investment has increased and reached to 11.3% from 9.8%. Share and debenture has notice reduction from 4.5% to -0.7%.
Mutual funds investment is also reduced from 3.3% to -1.1%. Insurance investment has seen acceptable reduction from 26.2% to 23.1%. Small saving scheme has notice reduction from 4.3% to -2.3%.
Provided fund and Pension fund has seen considerable rise from 13.1% to 15.6%.
In short in last three years most of Indians has made investment in bank fix deposit, Insurance, PF and pension fund making FD, insurance, PF and pension as first choice for investment.