Deadline of filing your income tax return 31st July is approaching. You must be ready with necessary documents to file income tax return but this year you may not have luxury to outsource task of filing return or may not file return physically. This year as per mandate tax-payers with taxable income over 5 lakh are required to file return online.
For taxpayers who are not aware about how to file tax return online this could be challenging task. We are herewith simple steps along with video guide how to complete this process easily without any hiccups.
This year Taxpayers has two options to e-file return.
Option 1 – Fill Return using XML Upload 
Step 1: Log on to tax e-filing website & register yourself. Remember your PAN card will act as your user ID.
Step 2: Download applicable ITR form from Downloads. You can use following table to know which form is applicable to you.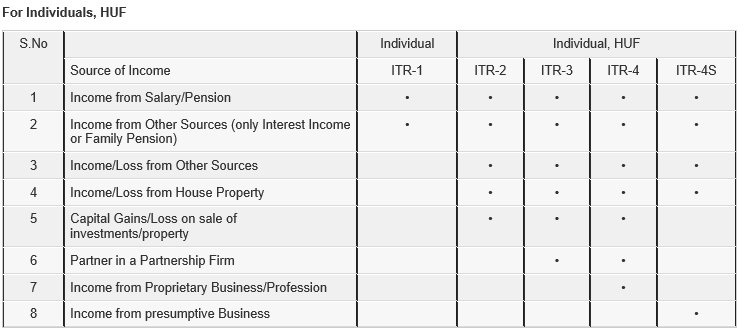 Step 3: You need to fill details in downloaded ITR Excel utility like address, PAN card, income details etc. Use Form 16 issued by your employer to fill income and TDS details.
Step 4: Validate information by clicking on 'Validate' button. This will generate XML save it on your computer.
Step 5: LOGIN to the portal & Go to e-File – Income Tax Return – Upload Return.  Upload saved XML file after selecting AY 2013-2014 and the applicable ITR form. You will be asked whether you wish to digitally sign the file. If you have digital signature press "Yes' or simply say 'No' and proceed.
Step 6: If process is completed successfully website display message flash showing that e-filing is successful. ITR-V verification will be send to you in your register e-mail ID.
Step 7: Take print-out of your ITR-V, sign the form (in blue ink) and send it by ordinary post/speed post to the Income Tax Department-CPC, Post Bag No-1, Electronic City Post Office, Bangalore – 560 100, Karnataka within 120 days of filing your returns electronically. Avoid sending document using courier service, form sent using courier will not be accepted.
Step-8: Once ITR-V form is received Income tax department will send acknowledgement of return filing to your register e-mail ID.
This entire process is captured in video given below:-
Option 2 – Prepare and Submit ITR 1 Online
Step 1: Log on to tax e-filing website & register yourself. Remember your PAN card will act as your user ID.
Step 2: Login to portal & click on Quick e-file ITR, it will open link called as prepare and submit online select assessment year provide details of Income & TDS & Submit.
If you are facing any issue you can raise helpdesk request by clicking on Helpdesk – submit request from Menu on e-filing site.