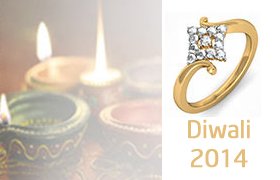 Diwali is auspicious occasion of Hindus. Diwali is festival of illumination. This year Diwali will be celebrated on 23rd Oct, 2014. Diwali celebration will start from Dhan Teras and ends on Bhai Beej.
Diwali is pure shopping festival for many people. People purchase cloths, home appliance, car, jewelry and many other house hold items in Diwali.  Discount season is back with Diwali 2014.Majority of company is offering discounts, sale or offers. We have discussed about Diwali 2014 offers on various products in our previous article. Today I will share details about Best Diwali 2014 offers by Jewelers on Jewelry.
Diwali 2014 offer by Joyalukkas:-
 Celebrate Diwali with amazing collection, great offers and the latest trends with Joyalukkas. Joyalukkas is offering 15% discount on uncut diamond this year. You can get free 200 mg. 22 karat gold coin on every jewellery purchase worth 50,000 Rs/- and above. You will get delivery of this gold coin on auspicious day Dhan Teras. This offer is valid till 25th Oct, 2014.
Diwali 2014 offer by Blue Stone:-
Blue stone Diwali Special offers is called Sparks of Love. On purchase of jewllery between 25,000 Rs/- to 50,000 Rs/- you will get 5% flat discount. On purchase of jewllery above 50,000 Rs/- you will get flat 10% discount.
5% discount use coupon code – SPARK5
10% discount use coupon code – SPARK10
Diwali 2014 offer by Caratlane:-
Online website caratline.com offers diwali very good discount on jewllery. If you want to purchase gold jewelry from Caratlane you can expect 5% flat discount.
If you are ready to spend 25000 Rs/- or above you can get flat 25% discount.
Diwali 2014 offer by Jabong:-
On jabong.com you can purchase jewllery at very lucrative price.  Jewllery range is starting from 1000 Rs/. to 5000 Rs/- and discount offer is from 30% to 77%.
So what are you waiting for Please visit nearest store or website to avail this Diwali offers.
Don't forget to share this information with your friends & relatives!