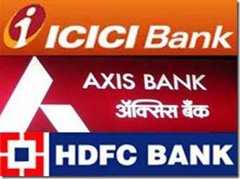 Bank most trusted place to keep our money, mostly we keep our extra money in bank account, but what happen if bank in which you are keeping your money is involved in illegal activity? You will defiantly think twice before placing your money in that bank.
Yes we are talking about countrywide undercover investigation by Cobrapost which shows that ICICI Bank, HDFC Bank and Axis Bank committing gross violations of the Income Tax Act, FEMA, RBI regulations and the anti-Money Laundering Act.
Anyone who wants to invest a huge amount of money to make it "white" These banks can help. A six-month long undercover investigation by Cobrapost, codenamed Operation Red Spider, found that many officials of these banks are involved in this type of activity.
Income tax department might not be even aware about this type of scam can also happen. Most of the bank officials of this bank allow investment of black money in insurance and gold. In some cases they advise to split the money in smaller lots to avoid attention of anyone. Open multiple accounts to make multiple investments in different names, withdraw money after maturity and close the accounts. All this would serve the purpose of making the money legitimate without the Income Tax Department knowing.
So now not only common man but big banks like ICICI, HDFC is also involve in money laundering or illegal transaction activities helping black people to grow black economy.
The modus operandi these Bank officials suggested overall can be summarized as follows: –
Open an account to route the cash into the Bank's menu of insurance products. Mostly this insurance policy will be single premium insurance policy.
Do it even without the mandatory PAN card.
Split the money to invest in a diversified portfolio including gold.
Invest in multiple instruments in the names of different individuals, not necessarily from among the family, to facilitate the investment of black money.
Make multiple FD in different fake names and just remember signature.
Use dummy accounts to faceplate the conversion of black money.
Get demand drafts made for the client either from their own bank or from other banks to facilitate investment without it showing up in the client's account.
Allot lockers for the safekeeping of the illegitimate cash.
Personally come to the residence of the client to take the black money deal forward.
Make a suitable profile for the client, such as showing him as an agriculturist or engaged in some businesses, so as to make the investment unquestionable.
Help the client to transfer black money abroad either through NRE (Non-Resident External)/NRO (Non-Resident Ordinary) accounts or through means other than regular banking procedures.
Recently you might have heard that government is thinking of issuing new banking license. Draft guideline is issued but does government really think of penalising this banks where they find this type of illegal activities.
Food for thought:-
If big bank like these involves their hands in this type of activity do we really need to keep account with such bank or do we really need to transact with these types of banks. Your answer may be NO.
This bank should be penalised heavily for involvement in money laundering.
At last let's look at some proposed slogans of these banks.
HDFC bank slogan says that "Bank on Us" but now bank can change it to "Bank on Us to Make Black Money White".
ICICI bank slogan says that "Khayaal Aapka" (We care for you) but now bank can change it to "Khayaal Aapke Black money ka bhi".
Axis bank slogan says that "har kadam par aapke saath" (With you in every step) but now bank can change it to "har kadam par aapke saath for black money".
Do Share your views/thoughts on this scam.