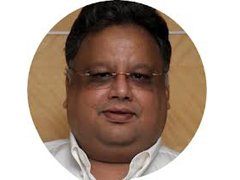 Rakesh Jhunjhunwala  is the billionaire founder of India's asset management firm Rare Enterprises. He started his investment with 5000 Rs/- in 1985 and now his portfolio is 5000 Cr. Many people believe that he is real investment guru of india. We are here with small excerpt of chat with Investment Guru Rakesh Jhunjhunwala.
Who is your investing hero?
I don't have any heroes. My thought is that we should not enslave our mind to any great man. But, personally, I like George Soros – for his human values, for his deep thought. I've met him. I had lunch with Warren Buffett, too. I've learned lots, but I don't want to copy anybody.
I think the first thing you need is an open mind.
What's your investing style?
I'm 52. I'm too young to have a philosophy. Because a lot may change.
What sectors have you been investing in lately?
I made an investment in the liquor sector, a media company, a luggage manufacturer and a casino company. I'm very bullish on agriculture.
Why don't you invest outside of India?
When the food at home is so good, why eat elsewhere? I have 102 per cent of my wealth in Indian stocks, because I borrowed 2 per cent.
If you were to invest in one other place, where would it be?
Africa. It's the next frontier. The key to Africa is governance. Look at Botswana. Where there's good governance, they've prospered.
Do you prefer passive or controlling stakes when you invest?
Ninety-nine per cent of my investments are passive. I want to earn money by recognizing opportunity.
I don't want to earn money by squeezing opportunity. It's better to understand your core competency. My core competency is balls of steel. I am a risk-taker.
What do you think of Canada?
I think Canada is in a great situation – all the natural resources, it's thinly populated. The big problem is Quebec.
What are your best and worst investments?
My smartest investment was Titan Industries. It sells 6.5 million watches a year in India. Its turnover is about $2-billion. When I invested in 2001, the turnover was about $800-million. I invested about $10-million, so every rupee invested is now worth 60. My dumbest mistake is when I make an investment and fall in love with it. I become blind to reality, until it's too late.
What do you tell foreign investors coming to India?
India is evolving. Have faith in India. Make money. God bless.
If you got a $1-million windfall, where would you invest it?
In India, very sure–in real estate and agriculture.
You said recently India was on the brink of a bull run.
I said the mother of all bull markets is ahead of us. Once politicians realize that the only way to retain power is to look good on development and reforms, I think India will grow by 10 per cent to 11 per cent a year. Another thing people forget is that Indians in 2012 saved $650-billion to $700-billion. In 2020, that's predicted to be $1.75-trillion to $2-trillion. If 10 per cent comes to the markets, what will happen?
Anything keeping you up at night?
My health. At the moment it is very good, but I smoke 20 cigarettes a day. I have four whiskies a day. And I don't exercise.
What do you think of your nickname – the Big Bull?
I think it's the wrong one. I think I'm realistic. In 2007, I was one of the big bears.