Covid-19 pandemic is killing the economy and business every day. Sanitization, mask, social distancing, work from home, and home quarantine have become part of our life. It seems our life is controlled by the Corona Virus. Everyone is going through a bad phase in their life.
The questions that are bugging everyone's mind nowadays are –
When Covid-19 will be over?
What will be the position of Indian economy post-Covid-19?
Do we see recession, stagnation, depression or progression post-Covid-19?
As of now, we all know that the recession phase has already started in India. GDP growth is down to six years' low in Q1 (2020). What Next?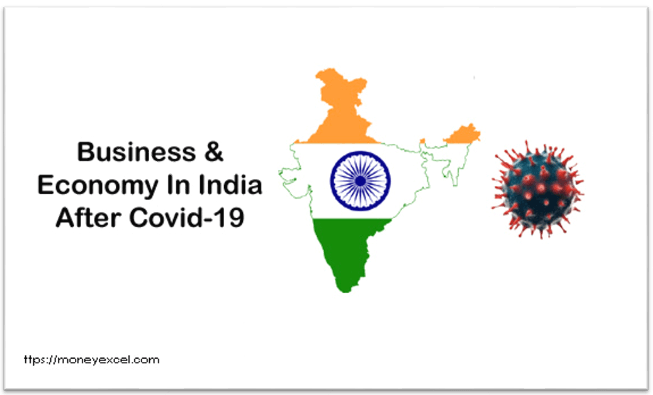 Let's try to explore –
What will happen to Business & Economy after Covid 19?
Economy and business may take V shape curve, U shape curve or L shape curve.
The first possible curve is V Shape. V Shape curve means the entire economy and market goes down drastically and take up sharp recovery and come back to a previous peak after a sharp decline. V-Shaped recovery is a best-case scenario for the recession.
The second economic curve is U Shape. Under U Shape economy will go down gradually and the market remains down for few months followed by a gradual rise and come back to the previous peak. It will follow U shape recovery. This type of situation takes place when a recession occurs and the economy does not bounce back and remain down for a few quarters. In India U Shape economy curve is likely to happen.
The third possible curve which is bad for everyone is L Shape. Under L Shape economy and market will go down sharply and remains in the stagnation phase for a few years. L Shape curve takes place when there is lot of unemployment, a slower return of business, low investment activity, and sluggish economic output. L Shape curve is possible if Corona remains for a few years without any vaccine or medical treatment.
In any situation, there will be three types of business industries (1) Winners (2) Losers (3) In-Betweener
Also Read – Covid Health Insurance – 10 Things to Consider Before Buying Covid Health Policy
#1 Winner Industries
The businesses and industries that have turned out to be winners are e-commerce & market Places, Streaming & Gaming, logistics & Delivery, Video conferencing, non-cyclical businesses, and pharmaceutical businesses.
Examples of businesses that have grown are Amazon e-commerce, Jio Mart, Netflix, Prime video, Disney, Zoom, Cisco Webex, FMCG and pharma.
#2 Loser Industries
Loser Industries in the current Covid-19 situation are Investment banking, Real Estate, Cinema, Travel, Hospitality, Employment services, professional sports, Food, Leisure, Gift store, stationery, furniture etc.
The loser businesses mentioned above are likely to take longer time for the recovery.
#3 In-Betweener
Few industries are likely to remain in between. They may go up or may go down. The example of these industries are education, manufacturing, health care & banking.
How to withstand in business post COVID-19?
Now, let's take a look at few important points that will help you to withstand and grow post COVID-19.
Build asset light model. Focus more on the profitability in the business. Remember cash is king and likely to remain king for coming years.
Develop and grow work from home model. Use new technologies and process to improve productivity. Manage manpower and build high performance team. Track and review Work from home employees.
Manage risk well and control supply chain in your business. Treat your vendor as partner and pay them on time. Select your vendors, contractors, partners, investors, alliances carefully.
Build a differentiation in your product. Work for Problem solving product and your business will withstand and run after Covid-19.
Select or build best business model for the business. A right business model will help you in getting success in the business.
Take user feedback time to time and improve your product and services to grow or withstand market.
Identify opportunity gap and enter into market accordingly. There is no point in entering saturated market.
India's position is strong while fighting with Corona battel. The number of cases is reducing; the fatality rate is low. India has a long-term geopolitical advantage compared to other countries. The government is working towards increasing consumption and growth in the economy. Vaccination production is likely to take place in India.
All these factors are in the favor of India in the fight towards Corona.
Let's hope for the best and see what happens to the economy and business in India.