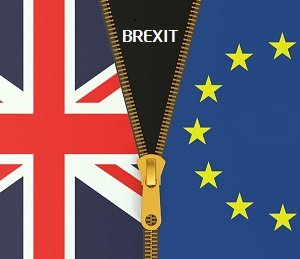 Brexit – Britain has finally decided to exit the European Union. This geopolitical event Brexit has created a massive impact on Indian stock market. The Brexit wave has pushed the stock market 1000 points down. Depressive effect of Brexit is likely to continue and in future, we will see further ups and down in the stock market. If you are wondering which stock is a safe bet after brexit. Here is list of stocks for investment post-Brexit. First, let's understand Brexit and its impact.
What is Brexit?
Brexit was Britain decision to exit the European Union. The European Union was formed with the participation of 28 nearby countries. A basic aim or the European Union is to stay together and synergized military support of each other. An additional to that they have formulated common laws for business, immigration and free trade between participating countries. Brexit is term given by exit of Britain from this union.
Also Read – 5 Best Investment Options in India for 2018
The Impact of Brexit on Economy
The Brexit will cause following impact on the economy.
The trade and economic growth of Britain will be at question and country may face recession effect due to this decision.
The GBP and Euro are crashed and expected to fall further. The massive reduction in GBP and Euro will make US dollar stronger. The companies generating USD revenue will get benefited.
Britain needs to formulate new rules and regulation for the trade and immigration. Under this condition, many existing established business will get impacted adversely.
The import-export business to Europe and Britain will get impacted due to the devaluation of GBP and Euro.
The stock market across the world will see the gloomy effect of Brexit and likely to remain volatile.
Free trade and movement between the EU countries will be banned for Britain.
Where to invest money after Brexit?
Some tips for investing money after Brexit is given below.
You can invest in gold ETF or gold-based mutual funds now. It is expected that Gold price is expected to increase and you can get an advantage of the same.
When it comes to the stock market investment you should be careful in selecting stocks. You should avoid the stock which has larger exposure to the UK.
As dollar price is fluctuating so, it is better to avoid IT stocks which have exposure to the global market.
If you are investing in Mutual Funds continue investing in a good mutual fund via SIP route.
Also Read – 10 short term investment options in India
Brexit Stock – Stocks for Investment Post Brexit
The stocks that will not be impacted are given below. You can safely invest in these stocks.
Bajaj Finserv
Bajaj Finserv is instrumental in providing financial services to end customers. The company is planning to acquire major stake in Allianz Germany based insurance company. This deal will be beneficial to the company. Bajaj Finserv is already doing a very good job and providing very good return to investor YOY. You can plan to invest in Bajaj Finserv for long term basis.
Bosch
Bosch is diversified company dealing in multiple fields. Bosch is very good stock and historically this stock has given very good returns. The balance sheet of the company is strong. The current boom in emission related technologies is likely to give benefit to Bosch. The company is likely to give a better return in future.
PVR
PVR is next in the list of Brexit proof stock. PVR has recently acquired D. T Cinemas. D. T. Cinemas is expected to add more value to this stock. PVR is performing extremely well and providing double digit return to investor YOY. You can invest in PVR for the long term perspective.
Maruti Suzuki
Maruti Suzuki is next in the list of Brexit proof stock. Sale of Maruti Suzuki is expected to grow due to the approval of 7th pay scale. The launch of new models and design change in Alto 800 is likely to give benefit to Maruti. You can invest in this stock for 2-3 year time frame.
Britannia Industries Ltd
Britannia Industries is next stock pick. The good monsoon will play a major role in limiting input price required for manufacturing of food related products. This will give major benefit to the stock. You can invest in Britannia for long term perspective.
Gati
Gati is in the business of e-commerce logistic and supply chain business. The formulation of new GST rule will make a significant impact on this stock. In last three months, this stock has given a magnificent return of 47%. This stock is expected to give good return in future. You can invest in this stock for short term perspective.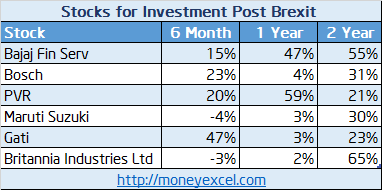 Stocks to Avoid –
Brexit will make an adverse impact on the following stocks. Major income of this stock is from Euro Zone hence it is not advisable to invest in these stocks.
Tata Motors -24% sales volume of JRL is from Europe.
Tata Steel – 12% stake of Corus Steel
Motherson sumi – 60% Income from Euro Zone
Hindalco – 9% income from EU
TCS – 26% income from EU, 15% income from Britain
Infosys – 23% of total income from EU
HCL Tech – 31.2% of total income from EU
Tech Mahindra – 29% income from EU
Mind Tree – 24.5% income from EU
Do you think Brexit impact is likely to continue?
Have you invested in any of the stocks mentioned above?
Do you think this stocks will give good return in future?