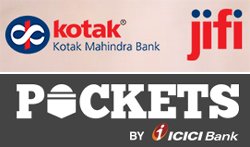 Today everyone including banks want to cash social success of facebook and twitter. Few days back we have reviewed ICICI iWish flexible recurring deposit.
Today we will discuss about two recently launched products Kotak Jifi account and ICICI Pocket app.
Kotak Jifi Account:-
Kotak Jifi is digital account that offer easy access anytime, hassle free transition and several other benefits. Jifi account integrates with your facebook and twitter account and provide all types of banking transaction information on the move.
With Jifi account you can also gain rewards for transacting online and adding friends to your Jifi network.
How to open this account?
In order to open Jifi account facebook account is mandatory. With Facebook account and initial payment of Rs.5000 you can open this account.  It is zero interest current account with no minimum balance requirement.
Unique Facility by Kotak Jifi Account:-
Auto sweep facility is built in if account balance is Rs.25000 automatically it will be converted to fixed deposit.
Account updates, cheque book request and other facility can be obtained by just one tweet.
Transaction points are given with every transaction.  This transaction points can be redeemed to avail online offer of ebay, jabong etc.
Free Jifi Platinum chip debit card is given to customer for 1 year
One can keep track of expense with Kotak Moneywatch platinum subscription for 1 year
One can use Kotak mobile app
Jifi How to Video:-
Review:-
Kotak Jifi account is product for people who are tech savvy and use social media and online transaction regularly. Zero balance and facebook, twitter integration is positive side of this account but this account does not offer any interest on money laying idle in account.
ICICI Pocket App:-
Pocket is unique app by ICICI bank. ICICI bank believes that we share everything with our friends on facebook now let's share Pocket (Expense) too. Pocket app is available for ICICI bank customers who hold resident saving account with valid debit card.
How to get this App? Log into your Facebook account and search for ICICI Bank, click on Pockets By ICICI Bank and register     OR Log into your Facebook account and search for Pockets By ICICI Bank and register yourself Unique Facility by Pocket App:-
Split & Share expenses with friends
Book movie tickets for your whole gang
Recharge your prepaid mobile instantly
Get 50% extra recharge value
Send money to your friend
Transact, keep track of your accounts and do a lot more!
Apply for service request cheque book e-statement etc.
Pocket App Video:-
Review:-
ICICI Pocket is good app by ICICI which not only offers feature such as booking ticket or recharging mobile it also gives facility to access account on the move. Wherever you are stay connected and do transaction by using Pocket by ICCI.