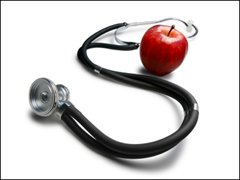 Apollo Munich Health Insurance, a joint venture between Apollo Hospitals and Munich Health has launched a new insurance plan few days back. "Optima Restore" this plan is unique health insurance plan in terms of features. Let's look at the plan in detail, its features, benefits, exclusions and most importantly you should purchase this policy or not.
Apollo Munich Optima Restore Unique Features:-
Portability:-
If you are insured continuously without interruption under another Indian insurer's individual health insurance policy for the reimbursement of medical costs for inpatient treatment in a hospital and you want to shift to optima restore on renewal than you can without losing any of the old benefits. This policy offers you portability & your old accumulated benefits will be transferred to optima restore.
Restore Benefit in Apollo Munich Optima Restore:-
Apollo Munich introduces a first of its kind, unique Restore benefit that automatically reinstates the basic sum insured in case you exhaust it in a policy year.
For example, let us say you have a policy with a sum assured of Rs. 3 lakh and the entire amount is claimed by way of some illness or hospitalization. In such a case, Apollo Munich restores the Rs. 3 lakh sum assured back, and this could be used for some other illness or for other members of the family(in case of a floater plan).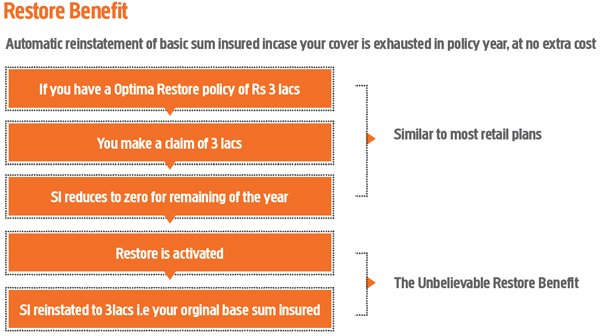 Multiplier Benefit in Apollo Optima Restore
Almost all health insurance providers offer a No Claim Bonus (NCB) for claim free policy years. Optima Restore offers the same benefit but with a difference. For the first claim free year the NCB is 50% of the basic sum assured. If the second year also goes claim free, the basic sum assured gets doubled. So, by the third policy year your sum assured stands doubled, if you have had claim free policy years.
For example, let us say you have a policy with a sum assured of Rs. 5 lakh and you don't claim any amount in 1st year than sum assured will be increased to Rs. 7.5 lakh (50%). Further to this if you don't claim in 2nd year than sum assured will be increased to Rs 10 lakh (100%).
So customer has dual advantage if he/she claim for SA than also SA is restored (within same year) & if he/she don't claim than multiplier benefit cause SA to increase.
Catch point of Optima Restore Health Plan:-
The restore sum insured can be utilized only for claims for new illness or disease for the insured person during the same policy year and any claims for any illness suffered by other members (in case of family floater)
The Restore benefit will be triggered only post exhausting your existing coverage (including Multiplier benefit) in a policy year
The Restore benefit will not be carried forward to the next year if not utilized.
The Restore benefit is applicable only once during policy year.
The Multiplier benefit will reduce by 50% of the basic sum insured in case of a claim in the previous.
High premium compare to other health plan available in market.
 Some other features of optima restore:-
Pre & Post hospitalization benefits are available for 60 & 180 days which is very exhaustive.
If you buy this plan for 2 years than you will get 7.5 % discount on premium.
If you buy two individual plan for 2 or more member than you will get 10% discount on premium.
This policy covers persons in the age group 91 days to 65 years so you can cover your child and parents too.
Renewal is possible for life time.
Organ donor and domiciliary treatment is covered.
Coverage Exclusion:-
Pre-existing diseases, except for any medical condition /disease for which we have applied specific exclusion, shall be covered from 4th year of the policy.
2 years waiting period for specific diseases like cataract, hernia, hysterectomy, joint replacement, hydrocele etc.
For the first 30 days of your policy we would provide cover only for medical expenses arising out of accidental emergency conditions.
 Apollo Munich optima restore would not provide cover for… 
Pregnancy, dental treatment, external aids and appliances
Medical conditions like HIV, AIDS & related disease
Medical conditions pertaining to Internal & external congenital diseases
Medical expenses arising out of Non-allopathic treatments
Expenses for artificial limb and external devices
Expenses for Cosmetic treatment or items of personal comfort and convenience
Exclusion is one of the important creation for selection of any health insurance, Please refer to the policy wording for the comprehensive set of exclusions before purchasing any plan.
Apollo Munich Optima Restore comparison:-
Premium of Apollo Munich Optima Restore:-
If we talk about yearly premium than premium in Apollo Munich Optima Restore are slightly higher compared to other policy & standard variant of their Easy Health Plan. But if we look at benefit restore and multiplier this rise justified.
If we consider small family of 2 adult with single child than sum assured of 3 lakh for 1 year will cost 8436 Rs/-. Compare to this if you purchase Easy Health Family Floater than it will cost you 6489 Rs/-.
So, Premium in case of optima restore is 30 % higher compare to easy health family floater.
Our Opinion:-
According to us Apollo Munich has come up with most promising product through Optima Restore. The product attracts a lot of potential with its unique features as Restore and Multiplier Benefit.
This policy provides numerous advantages & features. Optima Restore definitely gets a green signal from our side. If you are not covered with health insurance yet you can go ahead and purchase Optima Restore.