Competition and Competitors are part and parcel of our life & business. From education to jobs to business everywhere we find competitors. 
If your competitor is taking away your customers by lowering the price or giving more credit period you can't sit and quiet and get frustrated with that competitor. You need to adopt some proven strategies that can beat competitors in the business. If you are facing competition in business or life this post is for you. In this post, I am going to share 7 Focus Areas to Beat the Competitors in the Business.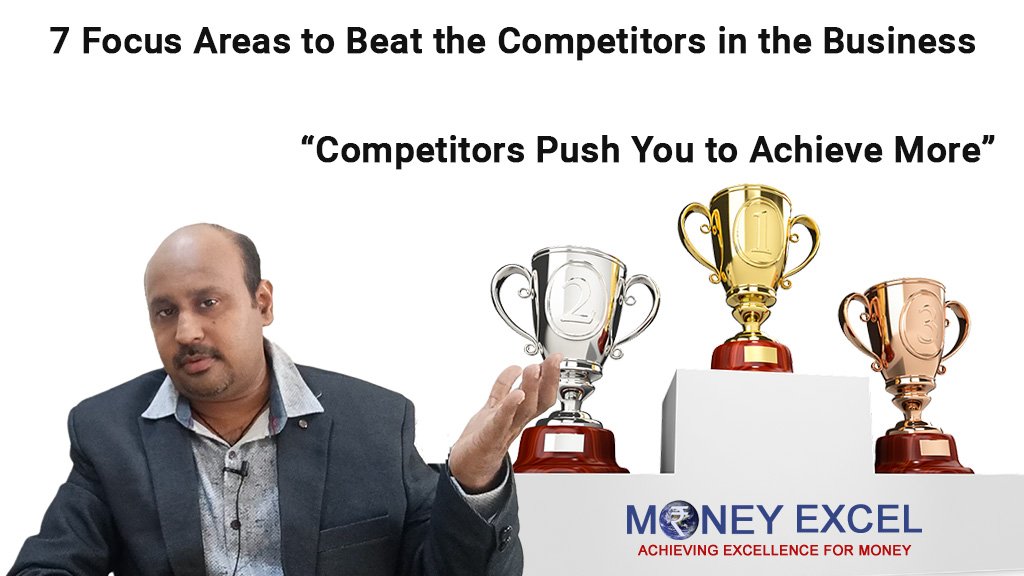 7 Focus Areas to Beat the Competitors in the Business
#1 Focus on Reach
There first rule of business that I learned very early in my life – "Most found beats the best". If your product or service has great distribution and is available easily to your target customers then your competition becomes irrelevant. You need to set up the distribution networks the franchising channels or multiple points of sales either offline or online. You need to make sure that your product or service is most found and that volume that you will get because being most found will make your competitor irrelevant.    
#2 Focus on the Recall Value of Your Business
The second rule that is important to beat the competition is apart from "Most found beating the best even the best known beats the best". It means you may have the best product you may have the best quality service but if there is a competitor who's better known than you, in that case, he/she will attract more business. 
So the strategy is to increase your recall by becoming the best-known in your industry. You can become best known in your industry by doing marketing consistently and creating a brand positioning in the mind of your prospective customers where they look at you as the most preferred option of product or service when they think of your product or service.
You need to ask yourself how can you market yourself consistently. How can you add value to customers? How you can grab attention and establish credibility?
#3 Focus on Right Leads
The third focus area is you need to focus on the right leads. The word right leads means when you target customers or prospects who have the money and the need that's when you are focusing on the right leads.
You need to identify people who have the money who have the need who will appreciate the value of the value your product or service provides to them. This will eliminate competition.
#4 Focus on Your Customer Results
Next is to focus on your customer results. You need to understand one thing your customer is not buying their product or service the customer is buying an experience or a result.  
So, In your languaging in your positioning in your Marketing, your selling in your storytelling please only focus on the customers' results. it's not about the technical sophistication of your product service or the innovation or supremacy or features of your products or services it's about measuring and mapping and messaging to the world how your customer is getting a result. 
If you are giving consistent results to the customer you can beat any competition.
#5 Focusing on Repurchases
The fifth focus area that you need to work on to beat the competition is focusing on repurchases. It is very important that the product or services that you are offering at least one of the products or one of the services you are offering needs to be of the type that people can buy repeatedly.
Repeat purchases are the best way of optimizing the return on your investment to acquire a customer and it's the best way to create a strong foundation of revenue for your business so that you're not affected even if the competitor is getting more customers you have a base you have a foundation that is strong enough where you're generating repeated revenue from your existing customers.
#6 Focus on Referrals
The sixth focus area is focusing on reference. Now as a business, if you are good at doing what you do if you're offering a good quality product or a good quality service with a good quality experience to your customers then it's your right to tap into the network of that customer and generate referrals from that customer.  
Tapping into customer references is probably one of the most underrated yet one of the most powerful practices to increase your business and beat the competition.
#7 Focus on Remarketing
The next focus area is focus on remarketing. You need to remarket your existing customers. See your existing customer has gone through a journey with you. First, they got aware of you then they considered you as an option to buy from then they made a decision to buy from
you and then they became your customer. Once they become your customer once they've used your product services then it is your responsibility to remarket to that customer and upsell related products or services on which they would naturally spend money.
You need to start thinking that apart from having a product that has a repeat purchase value ask yourself what are related products or services that your customer would be willing to spend money on. Diversify your product or service portfolio. Remember you can make more money from your existing happy customers. 
Final Words
Use the above focus areas and techniques to beat your competition in the business. Also, share with me which focus areas you have implemented in your business. You can reach me at sk@moneyexcel.com.