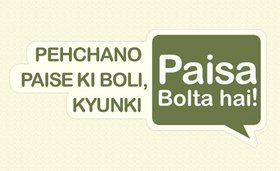 Almost every country face problem of fake currency circulation but in India this problem is rampant. As per estimate more than 3 trillion fake currency notes are in circulation throughout India. Majority of this notes are printed in country like Pakistan or Bangladesh.
A common man does not know what to do when he gets fake rupee note. The best way is to know how to detect fake currency notes and prevent it from coming to your hands. In order to help common man RBI has taken initiative to launch new website called as "Paisa Bolta hai". This website explains how one can detect fake currency note.
How to Detect Fake Currency Notes:-
The RBI website Pasia Bolta hai with tag line "Pehchano Paise ke Boli Kyonki Paisa Bolta hai" gives different check points for detection of Fake currencies. This website contains details for all the denominations in circulation including 10, 20, 50, 100, 500 and 1,000 rupee notes. I am herewith summarizing information about how to detect fake rupee note.
Paper Quality:- First detection point for any fake currency is paper quality. By touching currency note you should able to feel that paper used for currency note is different from our normal stationary paper. Genuine currency note is printed on crispy solid paper.
Visual Indication:- If you look carefully at currency notes you will able to identify several visual indications.
See through Register- Floral design printed on the left side of Indian currency notes next to water mark. Half of the currency numeral value is printed on the front of the note and the other half is printed at the back.
Watermark- Just beside this floral design you can find watermark with hidden portrait of Mahatma Gandhi. This will be visible if you see note in light.
Opacity variable ink- Opacity variable ink is being used in printing numeral value. Like in 1000 Rupee note shown above color of numeral 1000 appears green when note is half flat and this color will change to blue when tilting angle.
Security thread Indian currency have security thread in between marked with "RBI" and "Bharat" it will change color when you view it from different angle.
Fluorescence color Serial numbers of all notes are printed using fluorescent ink that can be clearly seen if viewed against ultraviolet light.
Note- If you are dealing with hundreds of notes at a time, it is wise to purchase currency detection device to detect fake currency notes.
How to Detect Fake Rupee Note Video
What to do if you get fake rupee note?
Another important question is what to do if you get fake rupee note from bank or from anyone unknowingly. I am sure 90% of people say that don't do anything. But my dear friend holding possession of fake currency note knowingly or unknowingly is crime.
As a responsible citizen you must make complain to nearest police station about source of this fake currency.
Make sure you are aware of source from where you got these fake notes if you are unable to explain from where you got these notes you are liable to jailed.  So you must remain extra cautious while doing cash transaction. Do remember points explain above for detection of fake currency notes.
Do share your views experience while dealing with fake currency notes!
Subscribe to Blog