A customer is a king. You can not run your business without customers. No customers mean No Sales and No Sales means No Business. So, customers are extremely important when it comes to business. That's why it is important to understand how you can keep adding new customers to the business so that you can keep enhancing the strength and stability of your business. 
As a business owner, it is your primary responsibility to grow your business, and business growth can only happen if you get new customers or in other words if you grow your customer base. 
In this post, I am going to share with you 5 Ways to get customers in business.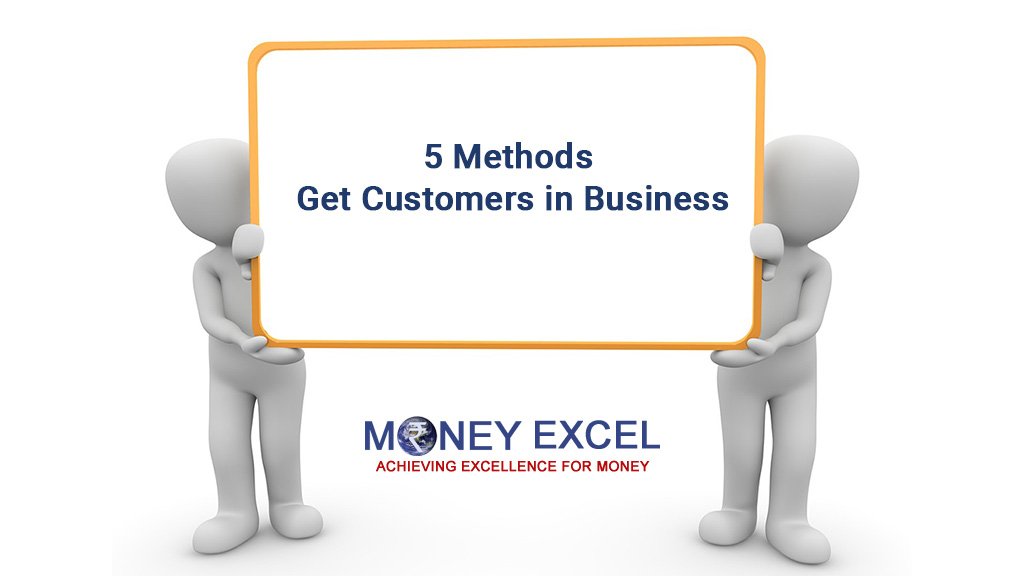 5 Ways to Get Customers in Business
#1 Do Marketing Consistently
One of the proven ways to get a new customer is by doing marketing. If you want to get more customers you need to do marketing consistently. 
Because when you are consistent in marketing you will generate leads consistently. You will have a healthy pipeline of prospects and closing deals and adding new customers to your business become natural & effortless. Explore Digital Marketing for marketing your business. Digital marketing is a proven method to market your business and reach new customers. I follow this strategy consistently to get new customers.
So if you want more customers do marketing consistently.
#2 Ask for Referrals from your current customers proactively
The second proven way to get a new customer is to ask for referrals from your current customers proactively. You need to ask for referrals. Don't wait for the customer to offer you something. Ask for such referrals proactively. 
Design asking referrals as a conscious practice in your customer interaction cycle. You can make Google Forms or a template asking for that information during the business cycle or customer interaction. Because you never know who can connect you to your next customer your job is to ask.
#3 Nurture the Prospects on a Continous basis
The third proven way to get new customers is to nurture the prospects who are interested in your product or services but have yet not purchased anything from you. One of the biggest mistakes business owners make is they meet people and pitch their products or services and if a deal does not get through they disconnect with them. 
No, you need to nurture them. You need to add value to them. Prove your credibility, and go deeper into the relationship. Follow up with them. It is one of the best ways to get new customers. 
#4 Do Continous Research & Development & Add New Products
The next method is to do continuous research and development and add new products or services. You should add products or services which will be valuable and your customer would be willing to spend their money on.
If you add a new product or service which is of value to your target customers then you will add more customers. You will attract new segments of customers. Thus adding new products or services is one of the most powerful methods of adding new customers.
#5 Tell Success Stories of Your Previous Customers
The fifth most powerful way to get new customers is to tell success stories about how your product or services have impacted your previous customers. I have done this practically and it works. 
Once you share the stories of how your products or services have made a difference & benefited your existing customers you automatically attract new customers. So make sure to tell success stories about your previous customers during your new customer interactions. 
Over to you
All these methods given above are proven and practical ways and I am sharing this with my experience. So, if you are not getting new customers make sure to follow the simple ways given above. If you want any help with digital marketing you can reach me at sk@moneyexcel.com.