A blue chip stock is a type of stock that represents a well-established and financially stable company with a long track record of strong performance. These stocks are typically considered to be a safe and reliable investment, as they are less likely to be affected by market volatility and offer a steady stream of dividends.
Blue chip stocks are typically associated with large, household-name companies in industries such as technology, healthcare, finance, and consumer goods. Examples of blue chip stocks include Microsoft, Apple, Amazon, Johnson & Johnson, and Procter & Gamble in US market. When it comes to India you can say Reliance, HDFC Bank, TCS, Infosys are blue chip stocks. These companies are known for their strong financials, consistent earnings, and steady growth.
Investing in blue chip stocks can be a good way to add stability and diversification to your portfolio. They tend to have lower risk and may provide a steadier stream of returns compared to other types of stocks, such as small-cap or penny stocks. If you are interested to invest in bluechip stocks here are 5 Bluechip stocks for investment in 2023.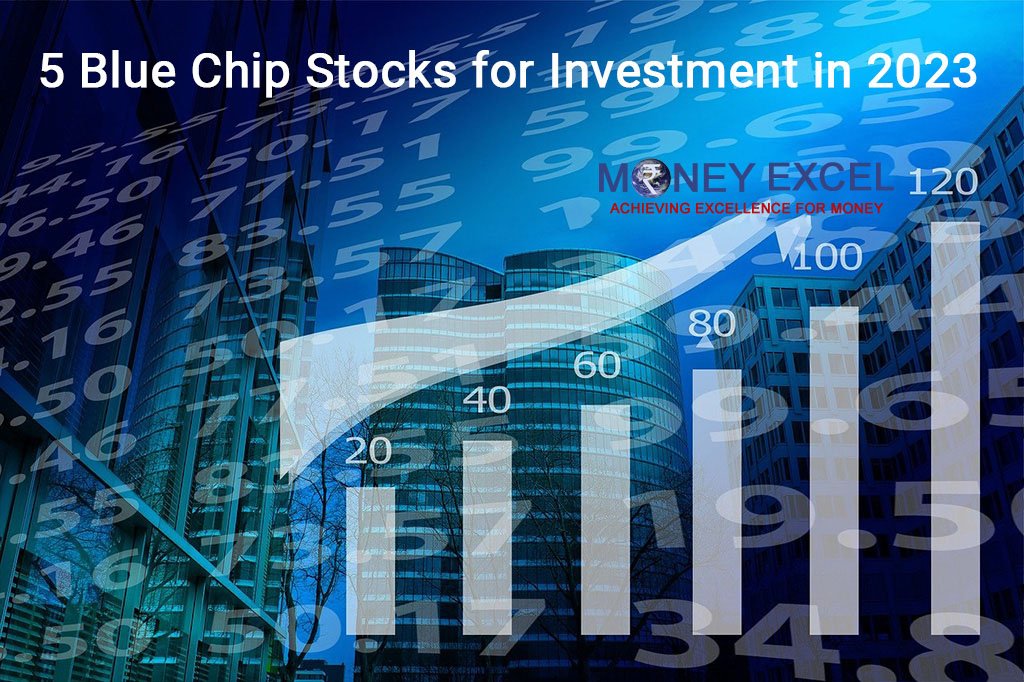 5 Bluechip stocks for investment in 2023
#1 Reliance Industries
Reliance Industries is a Fortune 500 company and the largest private sector corporation in India. Reliance Industries is most diversified conglomerate of India. 
Reliance Industries deals in textile, petrochemicals, energy, retail, natural gas, media, and telecom. It is the top bluechip stock for investment for the long term. Last year in the year 2022 this stock generated 12.3% returns for investors. As per me, this stock can come out as a leader and is expected to give multifold returns to investors in the days to come.
#2 TCS
Tata Consultancy Services (TCS) is the largest information technology (IT) services, consulting, and business solutions provider in India. Tata is flagship company of Tata Group.
TCS has been a preferred partner for companies worldwide to facilitate their transformation journeys through a cognitive-powered, consulting led bouquet of integrated engineering services and business solutions.
Last year this stock could not perform but if you see long term this stock has given very good returns to the investors. As per me it is good bluechip stock for investment for the long term.
#3 Hindustan Unilever Ltd
Hindustan Unilever Ltd. (HUL) is one of the largest FMCG Companies in India. HUL caters to a variety of product ranges which includes foods, beverages, cleaning agents, personal care products, and water purifiers. 
The company has ample liquidity which is indicated by cash and cash equivalents balance. It is a slow and steady blue chip stock. HUL enjoys a leading position in the domestic FMCG industry. It would help to maintain its leadership position and tide through any economic slowdown/ crisis. One can invest in HUL for the long term.
#4 Asian Paints Ltd
Asian Paints enjoys a dominant share of over 50% in the organized domestic paints market. It has also been able to garner a healthy position in the automotive industrial coatings segment with a market share of about 20%.
It seems Asian Paints enjoys a monopoly position in the painting business. Recently this stock is under pressure due to raw material problems. However, soon Asian Paints will bounce back. If you are planning to invest in blue chip stock for the long term, you should think of investing in Asian Paints Ltd.
#5 HDFC Bank
HDFC Bank is the largest private sector bank in India. HDFC was one of the first to receive an 'in principle approval from the Reserve Bank of India (RBI) to set up shop as one of India's first private sector banks in the country.
HDFC Bank is on growth tractory. Last year in 2022 this stock has given average returns. However, if you see long-term HDFC bank has given very good returns to the investors. One can invest in HDFC bank for the long term.
When it comes to investing in blue chip stocks, it's important to keep in mind that no investment is completely risk-free, and the value of blue chip stocks can still fluctuate. It's always important to do your own research and due diligence before investing and to consider your own financial goals and risk tolerance.
Overall, blue chip stocks can be a solid choice for long-term investors looking for stability and steady returns. They may not offer the same potential for high returns as some riskier investments, but they can provide a reliable foundation for a diversified portfolio.
Happy Investing!