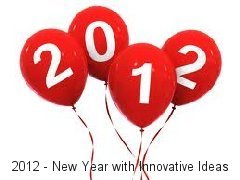 Wish you a Very Happy and Prosperous New Year, Another year has passed leaving behind happiness for some, sadness for some. As we start New Year please take time to look in to financial things you have done in 2011 and think that how you can do it differently in New Year 2012.
To take you in to right direction we have made some New Ideas in New Year, which can help you to make smarter & superior in terms of finance for 2012 and rest of your life.
New Year Idea -1 # Stay Hungry Stay Foolish
In life you have to always remain hungry for new knowledge and sometime foolish to learn/ implement foolish things which will be beneficial to you. We will give you one foolish example you must try to learn from everything even from your favorite Bollywood songs.
Stay Hungry:-
You must have heard song "Why This Kolaveri Di" from upcoming Tamil film, and the lyrics are in Tamil and English sung by actor Dhanush. In short time this song has become most popular in India, US, UK and many other countries. Most of us don't know what is meaning of "Kolaveri Di" and what this song about but many of us sing this song and making it more and more popular. Nothing wrong is singing "Kolaveri Di". Keep singing but learning from this argument is:-
In real life also many of us don't know about investment scheme, terms and condition on which it is available and we do investment take insurance, home loan without knowing side effects and later stage / at maturity time we realize it is wrong investment you must do your investment wisely, proper analysis is to be carried out before making any investment in any new investment scheme for which you don't know actual details.
Stay Foolish:-
Consider the situation if "Stock Market" is falling continuously and you are making losses every day, as per normal human behavior if situation is out of control you may sell share in loss and later stage if stock price increases you will realize that you have taken wrong decision. Instead of that you must keep patient till stock price reach to certain level. Don't loss hope, panic situation may affect you adversely in terms of finance or medically.
In this situation as foolishness you may think of whispering most popular song of bollywood movie "3 idiots" staring Amir Khan All Izz Well. Wording is "Jab life ho out of control Hothon ko kar ke gol setti baja ka bol All Izz Well" which will provide you energy to withstand market downs.
New Year Idea -2 # Start investing in yourself:-
You might have heard that self-investment is best investment, keeping that in mind you should start investing in yourself, either by improving your skill set in career, enhancing your personality, look, education or something you like as self-investment.
This type of investment always pays off. Not only for 2012 but skill set / knowledge which you have enhance always remains with you and help you in one way or other.
New Year Idea -3 # Make money from things you love:-
You can think of at least one thing you are passionate about in life. You can turn this passion in to hobby and start earning money from that.
Let me give you practical example if you love to listen to music and you are good in voice you can make yourself as "Radio Jockey" (RJ).
As in famous Bollywood movie "3 Idiot" message is given that don't run behind success run behind excellence in filed you love & Success will follow you.
New Year Idea -4 # Try to live eco-friendly life:-
Let's join go green concept, another idea in 2012 is to save energy and make your life eco-friendly. Try to implement simple things at your home to save energy and to reduce your utility bill. E.g. Change conventional bulb in to CFL (Compact fluorescent lights) which last more provide more light and save energy too.
If you are planning to purchase / change home appliance like Fridge , AC etc. always check for energy star (BEE) rating. Higher is the rating better is appliance.
As petrol price are rising like anything you can reduce your fuel bill by avoiding unnecessary usage of vehicle or by converting your car from Petrol to CNG.
New Year Idea -5 # Spender to Saver / Investor
First task you have to do this year (if you are not doing) is to make your monthly budget and start writing your monthly account which contains information about your daily debit, credit details. After every month you have to do analysis/review of this account to know your spending pattern, E.g If your monthly house hold accounts show that every month your mobile bill is increasing or your utility bill Electricity consumption or fuel consumption is increasing than based on need you can decide to reduce usage and turn yourself from spender to saver.
Actually speaking to become Saver/Investor from Speeder is not destination it is journey continues process, which requires continues improvement / review in process which you follow.
New Year Idea -6 # Stay Healthy Stay Fit 
Another Guru Mantra (idea) for this year is to stay healthy stay fit. Implementation of this idea depends upon person to person. By doing small small things you can stay fit and reduce /nullify your medical expense.
Exercise should be a part of every day! So important to keeping our hearts strong and healthy! There are many ways to incorporate exercise into your daily routine simple way is to start going for walk/ jogging every day (if you are not doing so).
You can check your daily diet plan and make changes as per your need.