LIC Jeevan Utkarsh is a single premium, non-linked, with-profits, saving cum insurance plan. It is a traditional close ended plan. A launch date of LIC Jeevan Utkarsh (Policy 846) is 6th Sept 2017. The plan will be available up to 270 days from launch date. As it is non-linked plan amount is not invested in stock market. The risk cover of the plan is ten times of Tabular Single premium.
Key Features of LIC Jeevan Utkarsh Plan
Premium – LIC Jeevan Utkarsh is a Single Premium Policy.
Term – The term of this plan is 12 Years.
This plan offers options for accidental death and disability benefit rider.
On the Life Assured surviving to the end of the policy term, "Sum Assured on Maturity"(Basic Sum Assured) along with Loyalty Addition, if any, shall be payable.
Insurance coverage will start only after five policy years. If death occurs within five years, the only refund of Single Premium (without interest) shall be available.
New Settlement Feature is a unique feature of this plan.
Loan Facility is available after 3 months from the policy start period.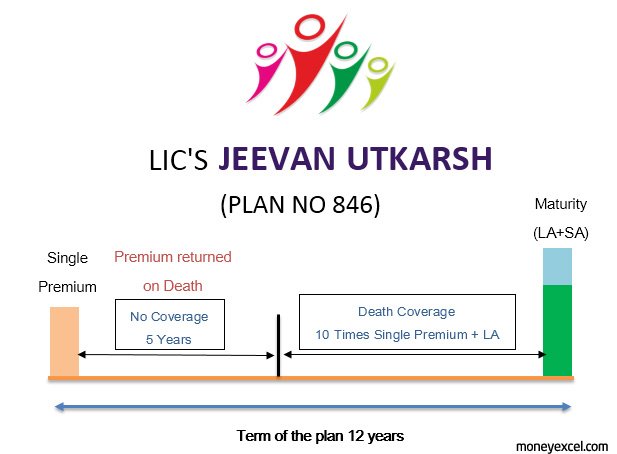 Eligibility Condition for LIC Jeevan Utkarsh –
Min Entry Age – 6 Years (Completed)
Max Entry Age – 47 Years
Mode of Payment – Single Premium
Min SA – Rs. 75000/-
Max SA – No limit
Policy Term – 12 Years
Benefits Jeevan Utkarsh Policy 846
Maturity Benefits of LIC Jeevan Utkarsh Plan
On Maturity of Jeevan Utkarsh Plan "Sum Assured" (Basic Sum Assured) on Maturity along with Loyalty and bonus if any shall be payable.
Death Benefits of LIC Jeevan Utkarsh Plan
(a) On Unfortunate death within first 5 years of policy
This policy does not provide any insurance coverage during first five years of policy terms. This means on the unfortunate death of the policy holder within first 5 years of the policy term, no benefit shall be payable. LIC will refund single premium without any interest and tax amount to the nominee.
(b) On Unfortunate death after 5 years before 12 years (Policy Term)
Sum assured equal to 10 times single premium along with loyalty addition shall be paid to the nominee.
New Settlement Option under LIC Jeevan Utkarsh 846 Plan
Settlement Option is unique feature introduced by LIC. Settlement option is an option to receive claim amount (i.e. Maturity Benefit or Death Benefit) in installments over the chosen period of 5, 10 or 15 Years instead of lump sum amount. This option can be exercised only by the Life Assured aged 18 years or above for full or part of the Death/Maturity amount.
The Installments shall be made in advance at yearly or Half Yearly or quarterly or monthly intervals, as opted for, subject to minimum installment amount for different modes of payments. Minimum Installment payment would be Rs.5000. The Interest rates applicable for arriving at the installment payments under Settlement Option shall be as fixed by the Corporation from time to time.
The Death claim amount shall then be paid to the nominee as per the option exercised by the Life Assured and no alteration whatsoever shall be allowed to be made by the nominee.
Review – LIC Jeevan Utkarsh Policy
Few important points about LIC Jeevan Utkarsh 846 Plan as a part of the review is given below.
LIC Jeevan Utkarsh Policy term is only 12 years. This period is not sufficient from the insurance point of view.
This policy does not provide coverage for first 5 years of the policy period.
It is claimed to be endowment plan where insurance and investment are mixed. You can expect 5-7% return from this plan.
It is single premium policy. This means once you buy this policy your money will be locked at least for 12 years.
Settlement Option is introduced as a unique selling point of this plan. However, it is a complex option and most of the things are in control of LIC.
A death claim shall be paid as per option exercised by the policy holder. Nominee cannot change any exercise option.
Two positive sides of this policy are 80 C tax benefit and insurance coverage up to 10 times single premium.
From above points, it is clear that although synonyms of LIC Jeevan Utkarsh is superior return and coverage it may not live up to mark.
Subscribe to Blog