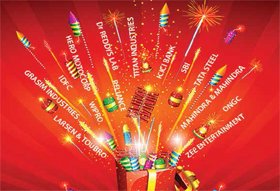 Diwali celebrations are on full swing. Stock market is also cheering up by showing upward movement.  To brighten up your Diwali further HDFC is back with 15 Diwali Dhamaka Stocks.
15 Diwali Dhamaka Stocks by HDFC
Dr Reddys Labs – Pharmaceuticals
 We are positive on the compay's long term potential of the pipeline of biosimilars, proprietary products and complex generics.
Management expects new product launches to drive the domestic business, which has grown by a robust 17.8% in the past few quarters.
Grasim Industries -Textile
Riding on large-scale VSF capacity addition, the company is expected to regain the lost market share.
The present D/E ratio stands at 0.34x signaling a strong balance sheet
Hero Motocorp – Automobile
Strong presence in the scooter segment with doubling of overall sales in the last 5-6 years.
The company is well poised to enter newer geographies thereby reducing its dependency on domestic market.
IDFC – Finance
A growing loan book, interest income, disbursements and profits are positives.
Besides structural advantage over banks, it is also supported by good management which has expertise in infrastructure lending.
ICICI Bank – Banking & Finance
Over the past six years, the CASA ratio has improved by 14 percentage points and net interest margin has increased to 3.1%
The superior credit appraisal procedures has reduced the Gross and Net NPAs by 200 basis points and 114 basis points to 3.0% and 1.0% respectively over the last 4-year period.
ITC – FMCG
Inelastic demand will push up the volumes in the medium to long term despite the steep hike in excise duty.
Despite the overall slowdown in the FMCG industry, ITC's non-cigarettes FMCG business has been growing at a healthy pace
L&T – Engineering
L&T is well poised to ride the infra and industrial capex revival expected with the stable government at the center.
Historically, L&T has always emerged stronger from a deceleration in the domestic economy. This also implies that whenever economic growth accelerates it will outperform its peers.
Mahindra & Mahindra – Automobile
M&M plans to invest Rs.75bn in Capex and Rs.25bn in subsidiaries and JVs over the next 3 years for capacity expansion and product development.
Sizeable launches are planned for the next 4 to 5 years.
ONGC – Oil & Gas
Gas price revision seems inevitable. Bullish crude prices will also push up the revenues for ONGC.
Fuel under recoveries could fall sharply over the next few years resulting in higher net realization
Reliance – Refineries
Higher gas prices and approval for new fields could boost the topline and margins over the medium term.
New businesses – Retail and Telecom could be a drag but restructuring these businesses could unlock the value going forward.
State Bank of India – Banking
The bank earns healthy NIM of 3.2% on a huge portfolio, which is commendable.
It has managed CASA ratio of 44%, which is among the best in the industry.
Tata Steel – Steel
Robust domestic operations and the recent good performance of European operations are encouraging.
Sharp revival in domestic steel demand is likely.
Titan Industries – Jewelry
The success of its franchisee-based retail model limits the need for capital expenditure.
The company has aggressive expansion plans for FY15E, which will provide a competitive edge to the company.
Wipro – IT
Wipro's focus on process simplification, automation and platform-based delivery continues to deliver results
The company expects to garner revenues of $112 mn (about Rs. 676 crore) from two-way pact with Canada's ATCO group the contract each year till December 2024.
Zee Entertainment – Entertainment
The ad revenue has grown at an impressive CAGR of 11.8% in FY11-14 to Rs 2380 crore in FY14 from Rs 1701 crore in FY11. In Q1FY15, ad revenues went up 17% ahead of TV industry growth of 13%.
 Download Full report on 15 Diwali Dhamaka Stocks Here.
 (The views and recommendations expressed in this section are of HDFC Securities own and do not represent those of Moneyexcel.com. Please consult your financial advisor before taking any position in the stocks mentioned)