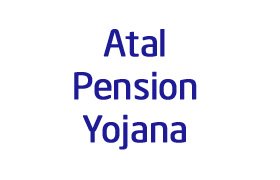 Atal Pension Yojana (APY) scheme is launched by Prime Minister Narendra Modi along with Pradhan Mantri Suraksha Bima Yojana (PMSBY) and Pradhan Mantri Jeevan Jyoti Bima Yojana (PMJJBY) on 9th May, 2015. I have already described about Pradhan Mantri Suraksha Bima Yojana (PMSBY) and Pradhan Mantri Jeevan Jyoti Bima Yojana (PMJJBY) in my earlier post. In this post I will give information about Atal Pension Yojana.
What is Atal Pension Yojana?
Atal Pension Yojana is pension scheme launched by government of India for Indian citizens. This scheme will mainly focus on unorganized sector workers. Under Atal Pension Yojana guaranteed minimum pension of Rs. 1,000/-, 2,000/-, 3,000/-, 4,000 and 5,000/- per month will be payable to subscriber on retirement age 60 years. Pension amount depends upon contribution made by subscriber.
Eligibility Criterion for Atal Pension Yojana
Minimum age of subscriber 18 years. Maximum Age 40 years.
Subscriber should have saving bank account as contribution towards APY will be automatically debited from saving bank account.
Subscriber of APY should be in possession of mobile number and its details are to be furnished to the bank during registration.
Minimum Contribution
Contribution of a subscriber at age 18 years, for pension amount of 1000 Rs/- will be 42 Rs/- per month which is minimum contribution for this scheme. If subscriber age is 40 years his/her minimum contribution will be 291 Rs/- per month.
Maximum Contribution
Maximum contribution of subscriber at 40 years, for pension amount of 5000 Rs/ – will be 1454 Rs/- per month. For 18 years of age this amount shall be 210 Rs/-.  This contribution amount varies and depends on age. For more information please refer to Atal Pension Contribution chart given below.
Atal Pension Yojana Contribution Chart
Government contribution towards Atal Pension Yojana scheme 
In Atal Pension Yojana, Government will co-contribute 50% of the total contribution or Rs. 1,000/- per annum, whichever is lower, to the eligible APY account holders who join the scheme during the period 1st June, 2015 to 31st December, 2015. The Government co-contribution will be given for 5 years from FY 2015-16 to 2019-20.
Please note that co-contribution by government will be given only if you are not covered by any Statutory Social Security Schemes. Another condition is you should not be income tax payer.
What is the procedure for opening Atal Pension Yojana Account?
Approach the bank branch where individual's savings bank account is held.
Fill up the Atal Pension Yojana registration form.
Provide Aadhaar/Mobile Number.
Ensure keeping the required balance in the savings bank account for transfer of monthly contribution.
Hope you find this post useful, if you have any other query regarding Atal Pension Yojana please share it here.
For more information about this scheme please refer to scheme document.
Similar Stories:
Subscribe to Blog